Parmentier de confit de canard: the ultimate autumn comfort food
Created: Friday, 13 November 2020
Written by Julie Savill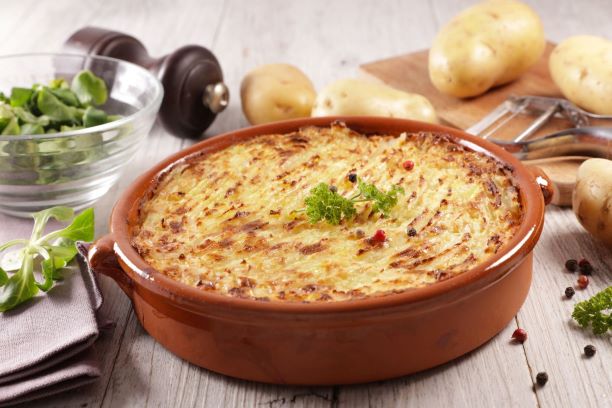 If you're looking for an easy and comforting autumn recipe, we thoroughly recommend Parmentier de confit de canard (duck cottage pie). The creamy potato and mouth-watering confit is truly a match made in heaven, and perfect for this time of year! Confit de canard is a speciality of the Gascony region and is prised across the whole of France. Luckily it can be bought very easily in tins and is stocked in almost every French supermarket.
Ingredients
4 duck confit legs, from the tin
4 shallots, finely chopped
Chopped thyme and parsley
Red wine, 175ml/6fl oz
Chicken stock, 200ml/ 7fl oz
Potatoes, 800g/1lb 12oz, peeled and chopped for mash
Milk, 125ml/ 4fl oz
Grated comté cheese, 200g/7oz
Salt and pepper
Recipe
In a saucepan heat the confit duck legs over a gentle heat to break down the fat (you won't need all of this, but you can save some in a jar for future recipes such as roast potatoes)
Remove the duck skin and using a fork shred the meat, removing any bones or gristle. Then set aside the shredded meat for later.
Using some of the duck fat, gently fry the shallots with the thyme and pepper. When golden, add the red wine and stock.
Simmer for a few minutes then add the meat and parsley. Mix together and remove from the heat.
For the potato topping, boil the potatoes in salted water until soft. Add the milk and mash until smooth. Season with salt and pepper.
Grease a large baking dish with some of the duck fat. Add the shredded duck meat and then smooth over the layer of the mashed potato. Follow with a sprinkle of grated cheese and bake for around 25 minutes until golden brown on top. Bon appétit!
Source: https://www.bbc.co.uk/food/recipes/duck_cottage_pie_32748