Celebrating Epiphany in France
Created: Wednesday, 06 January 2021
Written by Callum Holmes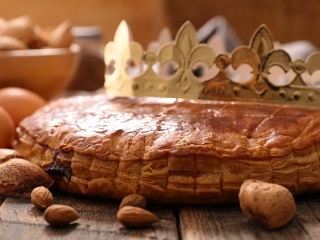 In France the festive season officially comes to a close with Epiphany on the 6th January. Historically it was a Christian feast day to celebrate the arrival of the three wise men to baby Jesus, and one tradition is for families to hide the wise men figures from their nativity sets in the run-up, so that they can be replaced next to Jesus' crib on the day.
Epiphany hasn't been a national holiday in France since 1971, but it's still widely marked with the eating of Galette des Rois which translates as 'cake of the kings'. You'll see these stocked in almost every French supermarket and they consist of basic puff pastry filled with frangipane cream. What makes these cakes special is that a small ceramic figurine or charm is hidden inside.
The lucky diner who finds this in their slice gets to wear the crown, and it is sometimes customary for the king or queen to buy the cake next year! Nowadays the charm or 'féve' can represent anything, so don't be surprised to see versions of your favourite Disney characters! Many have even become collectibles.
In France it also tradition around the start of the year to show gratitude to key workers such as firefighters, posties, cleaners or concierges by giving them an envelope with some money. This can range from €5 right up to €50 for anyone feeling generous. Sadly this tradition is on the decline, but you will still often see firefighters and posties going door to door for donations, often selling their own calendars.
If you're celebrating Epiphany tonight enjoy your Galette des Rois, and don't hesitate to wish your French neighbours a Bonne Année!