Best Estate Agency in Europe 2021
Created: Monday, 15 February 2021
Written by Callum Holmes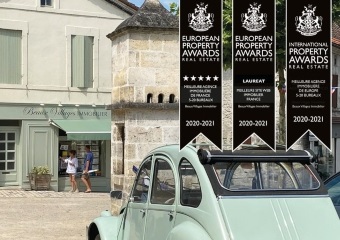 We are delighted to once again have been voted Best Estate Agency in Europe at the International Property Awards!
This is in addition to Best Estate Agency in France and Best Estate Agency Website in France. The awards are judged by an independent panel of 80 property industry experts who have reviewed our services and feedback from our clients.
This recognition means a lot to us. We are continually striving to provide the best service possible. Despite Covid-19, 2020 was a rewarding year and we have continued to evolve and adapt our services for buyers and sellers alike.
New digital services
Throughout the pandemic we have added market-leading digital services. Video tours and livestream viewings, Zoom and Whatsapp conferences have all led to successful sales.
Salaried support teams
We understand that our clients' time is precious, and that buying is an investment, so we inject extra value to every step including salaried support people in every office. Our industry-accredited training team ensures that our consultants have skills and knowledge over and above the statutory requirements.
BVI+ service for property buyers
Our unique BVI+ service allows buyers to sign up and receive exact property locations, which are not readily available in this multi-listing industry. Our care in this regard also protects our vendors.
New vendor services
Vendors can log into our database and see what we are doing on their behalf. Sellers can also upload basic details of their property directly to our website and get in immediate touch with a Property Consultant.
Friends of BVI
The Friends of BVI initiative encourages those in our local and international community to refer in buyers and sellers and share in our success. Please get in touch if you would like to take part!
Savills partnership
As the exclusive associate in south-west France for Savills we have global reach in the world of quality estate agency.
2021 is looking good and we're off to a strong start. If you'd like to join us on our journey, now's the time - we're recruiting independent sales consultants across all areas of SW France! Message us and Tina Anderson will get back to you for a confidential, informal chat.