Create French Style
Created: Thursday, 22 August 2019
Written by Julie Savill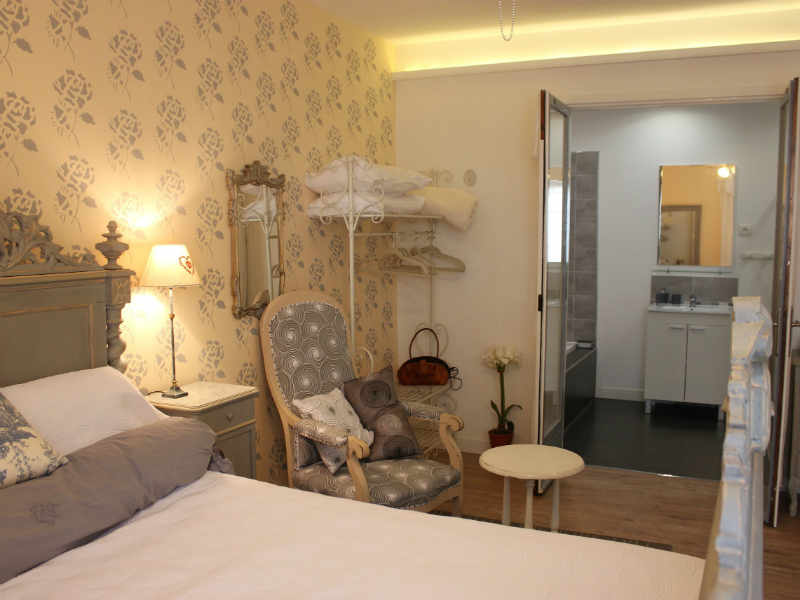 All the fun and the flair.
What says French style to you? The chateau look with panelled walls? The painted house with upcycled furniture? The rustic cottage filled with brocante finds? Julie Savill talks you through giving your home a little oh la la.
Something odd happened to me. When I lived in England, I had a lot of free-standing furniture in the kitchen, I would find accessories on trips to France (or in our local antiques shop) and we had a modern meets rustic look going on. Friends would come round and remark on how French our home looked.
Fast forward a couple of years and we finally bought the dream house in the Dordogne and moved our belongings lock, stock. Then suddenly new French friends would come round and remark on how English our home looked. Same furniture, same accessories, same overall vibe, but in an old stone house. So what had happened? Well, I think the answer is that what feels French to us Brits is an illusion that we have created, all for ourselves. Sure, elements of it are straight from chateaux and farmhouses but we put it together and mix it up in such a way that, to a French person, it is evidently 'foreign'.
For all that it is fun putting these looks together and there are three key styles that you might want to try, wherever you live, to get a bit of joie de vivre going in your home.
Make mine a chateaux
Let's start by thinking big! Most holidays to France have a chateau visit somewhere along the line and it's hard not to be inspired to grand living.
Style essentials
Panelled walls. Large expanses of plain wall can be broken up with even squares or rectangles of architrave making 'frames' on the walls. Choose a suitably French looking wallpaper to fill these panels. Alternatively, hang tapestries for a similar effect.
Lighting is key. Either grand and glittery chandeliers or, for a more medieval look, wrought iron wall sconces with candle bulbs.
The floor. Bare floorboards are perfect. Team with big rugs (Aubusson-style with elaborate floral designs or very simple sisal ones). You often see a very elaborate floor style in big properties with a chequerboard of oak boards laid down with the squares in between filled with handmade terracotta tiles.It's a labour of love to recreate but it looks fabulous in a big room.
Painted, beamed ceilings. Someone has spent a considerable amount of time, Michaelangelo-like, on a scaffolding, first painting the whole ceiling then adding stencilling or free-hand scrolling designs along the beams. Colours tend to be earth tones - deep reds, ochres and greens, possibly with green highlights. In a small house this could be overbearing but if you have high ceilings (and the requisite beams) try it with lighter shades of taupe on cream or white on grey.
Mirrors. Need I say more? Rococo, gilt, painted and the more the merrier!
Where to shop
Laura Ashley does a fantastic wallpaper called Josette. It is the epitome of French style and works well on full walls or to fill panels.
Lighting is easy to find at almost any budget. Try Facebook MarketPlace when you are in France and see what goodies come up in your area. Vide greniers and brocantes are also good hunting grounds for crystal-hung chandeliers that would look just as good in a Victorian semi as in a French stately home. Don't be afraid to go big!
If you are painting big areas of ceiling go for chalk paints to minimise the preparation work. The big French DIY stores are starting to sell it now - look for Peinture Craie.
For furniture such as curly-topped wardrobes, tables with elegant curved legs and carved side-boards, check out the Depots Ventes. These are house clearance warehouses where stock tends to turn over really quickly at very affordable prices. The bigger the furniture, the better the value, on the whole. Fewer people have room for the large pieces so they can be real bargains.
The painted house
We've all seen them. Those houses where old furniture has been cunningly made over (it's called a 're-looking' in French) in shades of whites or neutrals. Here's how it's done.
Style essentials
Choose a colour palette and stick to it. Take a look at the Farrow and Ball colour chart and pay particular attention to their whites or greys. That's where you should be pitching your palette for this calm and elegant look.
Look out for unloved furniture that has pleasing shapes, roll up your sleeves and get painting. Choosing one or, at most, two colours for all the wooden furniture can unite a disparate range of pieces into one cohesive look.
Comfort is key and you'll need big squashy sofas piled with cushions and layered with throws so you can't wait to just jump in and relax.
Lamps are your best lighting friends in these rooms. Keep the lights on small side tables or side-boards so you get an overall glow rather than an overhead glare. If you can get all the sockets for lamps onto one circuit you can switch them all on or off with the flick of one switch.
Where to shop
Finding good upholstery has been my biggest challenge in France and I have resorted to good old Laura Ashley (for beds too). But things are improving apace - check out Maison du Monde for some really decent sofas and chairs.
Don't be afraid to weave a few bits of Ikea in here. The Maryd tray table, for example, is a really sweet piece of furniture and comes in a very soft grey or a pale grey/green.
Fabrics are another voyage of discovery! There is a chain of stores called Bouchara in south west France and they have a good range of contemporary but also more traditional fabrics. My latest buy was metre upon metre of white linen voile to make drifty curtains to waft in the breeze from the window. They often have good sales - sign up for a loyalty card - and I got 40% off my last buy. Otherwise, Google 'tissus d'ameublement'. Most bigger towns have a warehouse-style fabric shop.
Keep an eye on the sales at The White Company. Their bedding is fabulous quality but not cheap. They have regular promotions and very reasonable charges for delivery to France. Check out the Avignon range with its gorgeous 'bobble' edging.
The rustic home
This is where you can really have some fun as almost anything goes. This works really well alongside features such as beams and stone walls but also as a counterpoint to really modern style in a new-build home.
Style essentials
Keep materials traditional and honest. You are looking for old wood, pewter, tin, enamel, glass and china. And don't over-clean or over-restore things. If you buy them because they are old they don't need the home equivalent of botox!
The same applies to fabrics. Look out for heavy ticking stripes in linen, natural jute, antique sheets with ladderwork edges and old quilts in good condition.
Rework things and give them a new life. A bundle of old sheets makes great curtains, a single big glass is a vase, old lemonade bottles with spring stoppers make great containers for oils, shampoo or laundry detergent.
Small stuff matters! Let your inner magpie loose! Snap up that collection of old marbles or crystals from a chandelier and show them off in a jar. Collect ancient rusty keys and make a board to display them. I collected hand-forged scissors for years then found a little old cupboard door and screwed them to it to make a picture.
More is more. This is not a minimalist look but if you think it is all getting a bit much the best way to keep it in check is to take some photos of your room. Does it look as good in a photo? It might be time to calm it down and start selling a few things before you buy more!
Where to shop
You need to have your basic furniture and some things, such as mattresses, aren't everyone's cup of tea second hand. I'd buy lovely old bed frames at a Depot Vente (see above) then get myself a fab new mattress that suits me. Some of the old French beds are odd sizes but several online companies make mattresses to fit.
This is all about collecting rather than shopping. Brocantes, and vide-greniers are obvious hunting grounds, as is Facebook marketplace. Charity shops are becoming more numerous in France now and it is amazing what other people get rid of. You need to rummage but you'll find linens, pewter plates and mugs, old decorative cutlery in silver plate or pewter. Don't worry that your table settings don't match - it's charming to have a mix of plate and cutlery styles. Call it a Harlequin set!
Maisons du Monde sell a wide range of new, affordable but traditional-looking things such as ribbed glass storage jars, rustic picture frames, window dressings, cushions and small pieces of furniture.
A good furniture wax will be your best friend for all the pieces of ancient wooden furniture you'll find. Look out the the 'Les Trois Fréres' brand and Liberon, both of which are available in all DIY stores. I particularly love the wholesome, clean smell when I've re-waxed furniture - it's the best air freshener!
Take a look a some property currently on the market with great French style:
If you are blessed with original features, let them take centre stage. These pebble floors are not uncommon and add masses of character alongside the stone walls.
Like the look? The pebbles are set in concrete and this could be recreated indoors or outside.
€583 600, Dordogne.
Drawing on the Parisien love of white, this house is packed with French flair. Layers of fabric give a sumptuous look which is carried throughout the house. Light, elegant and spacious - we love it!
€299 999, Charente
High style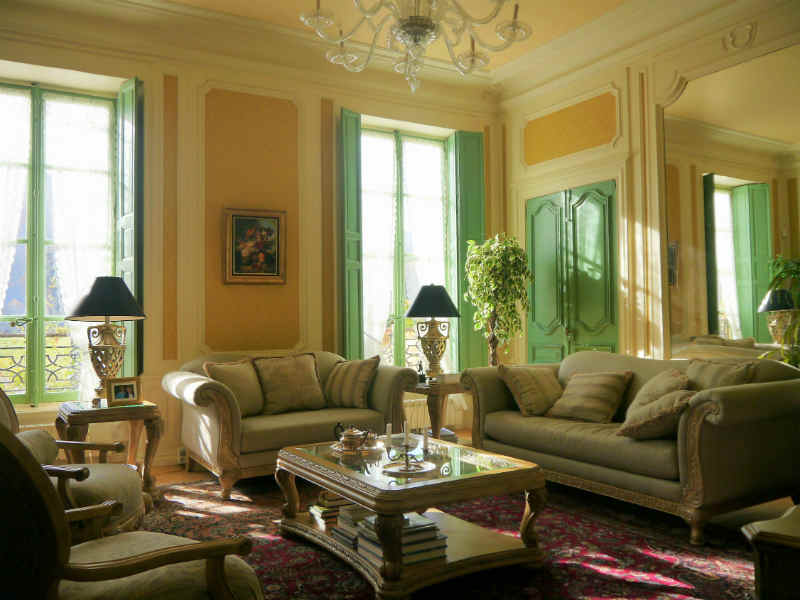 Lofty ceilings are a gift to be relished. They go along with large windows and lots of light! These tall walls are ideal for panelling filled with damask wallpaper or mirrors. Team with curvaceous furniture for chateau style in any home.
€1 995 000, Haute Garonne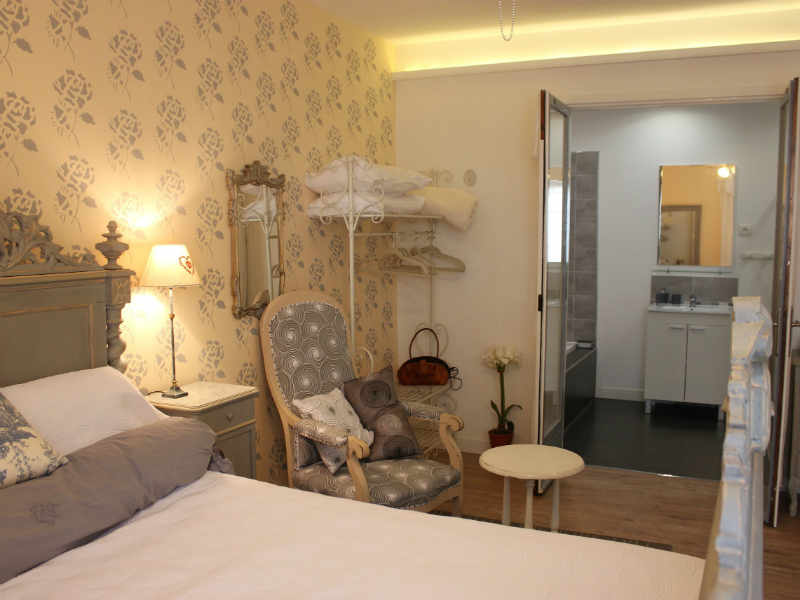 Wallpaper is a perennial favourite in French homes. Choose a floral design on a neutral background and paint brocante furniture in shades to match. Grey is a harmonising element used through this magical 4 bedroom property.
€280 900, Aude