Bouches-du-Rhône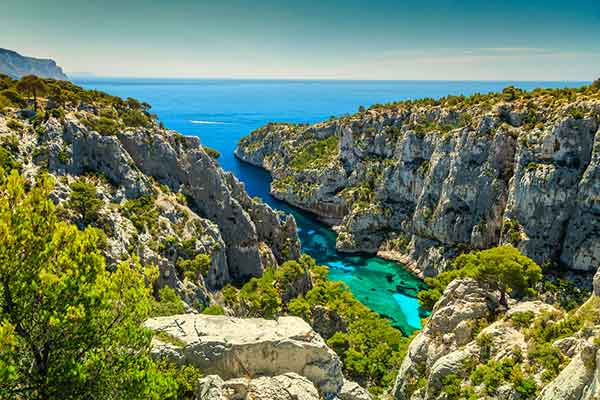 The literal translation is 'Mouth of the Rhone', and it is here that the grand old river Rhone meets the sea and forms an enormous wetland called the Camargue, at the south west end of the département. Black bulls, white horses, flamingoes - it makes for an exotic landscape! And a whole industry collecting sea salt.
There is a second part of the Camargue across the border in Gard, Languedoc-Roussillon.. The area capital, Marseille, is France's largest commercial port and local industry includes petrochemicals. Statistically Bouches-du-Rhone is largely urban, as indicated by the population density, however this is only part of the story and it also has many gems to the north of the area.
It also contains a couple of France's best-kept secrets on the coast in Côte Bleue and the characteristic steep coastal inlets known as Calanques.
This is where you can combine a mediterranean climate with little rain with easy access to skiing - who knew?
Key towns
Marseille
Aix-en-Provence
Arles
Casis
St-Remy-de-Provence
Fact file
Land area: about 5,000 square kilometres
Population: about 2 million
Population density: 385/km²
Local property styles
There is a little of everything here from rustic stone farmhouses to sleek new villas to village houses and apartments in bustling towns
Click here for properties in the Bouches-du-Rhône.