Estate Agency in Aubeterre-sur-Dronne
Our estate agency in Aubeterre-sur-Dronne has a wide range of properties for sale in the village and the surrounding areas of the Charente.
Beaux Villages Immobilier opened in the village in 2012 after buying a friendly competitor, and all the original team members stayed on. The agency has steadily grown and has an experienced multilingual team who cater to both a local and international clientele. It's located in the heart of the village, on the picturesque main square.
If you are looking to buy a property in the area, the team are ready to help. They can also provide a market appraisal for your property if you are considering selling. Simply give them a call, email, or drop into the agency.
Beaux Villages Immobilier sells properties across the whole of South West France. Click here to see all our agency locations.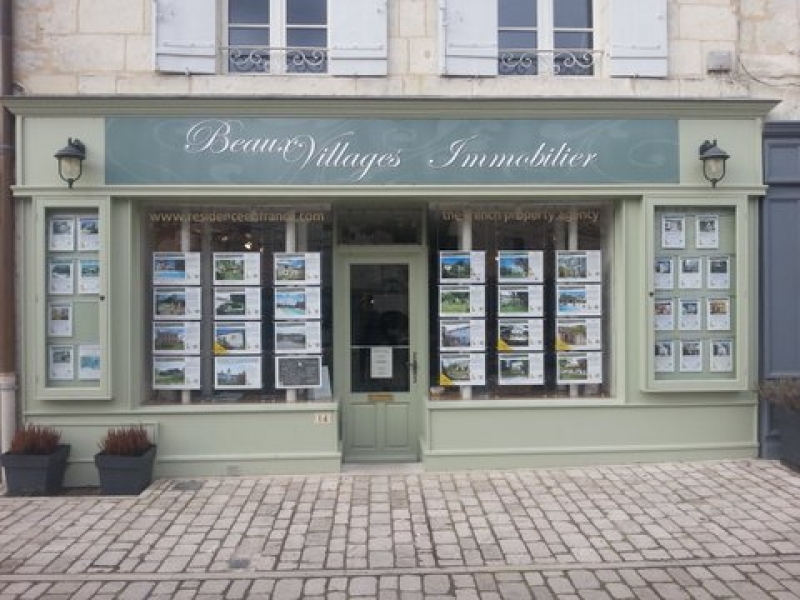 Address
Place Trarieux
16390 Aubeterre-sur-Dronne
Charente


Opening Hours
Monday to Friday 9am - 1pm
Phone
+33 (0)5 56 71 36 59
+33 (0)8 05 69 23 23 Free from FRANCE
+44 (0)800 270 0101 Free from the UK


Email
---
End of content
No more pages to load
What is there to see and do in Aubeterre-sur-Dronne?
Located in Charente, Aubeterre-sur-Dronne is a 13th century hilly village with beautiful viewpoints. The main attraction in this village is the Saint-Jean monolithic church, it is carved into the rock and is the biggest troglodyte church in Europe. The village also has another stunning church, the church Saint-Jacques.
The village is also home to several pottery shops, art galleries and antique shops which are worth a visit!
In 1993, the village was accepted to the prestigious Plus Beaux Villages de France association which recognises the prettiest villages in France. In 2012, the village was awarded the "Petites Cités de Caractère" label which aims at preserving remarkable heritage.
Aubeterre-sur-Dronne is also a designated "Station Verte" which is awarded to villages and towns who are committed to ecotourism in rural areas. One of the reasons Aubeterre-sur-Dronne was awarded this label is because of its lovely riverbeach. The Dronne river flows through the bottom of this stunning village and its banks are home to a sandy beach where you can enjoy a leisurely swim or savour a refreshing drink at the bar and restaurant.
What events take place in Aubeterre-sur-Dronne?
Aubeterre-sur-Dronne hosts a lovely morning market every Sunday, which is particularly lively during the summer months.
The village also hosts an annual Pottery festival over one weekend in September, where different potters show off their creations around the village. Throughout the summer, a wide range of cultural activities are often organised in the village ranging from concerts to shows to art exhibitions.
What is there to see and do in Charente?
The main towns or cities in Charente are Angoulême (49 km) and Cognac (72 km). Angoulême is renowned for its annual Comic book festival and classic car races around the ramparts, whilst Cognac is famous, well for cognac! Both towns are worth a visit, you can spend the day brandy tasting in Cognac or discovering the hilly town of Angoulême and its cultural heritage.
Charente is a beautiful, rural department. It is home to the Charente river, popular with those who enjoy watersports like canoeing, kayaking and fishing and there are plenty of hiking trails and cycling routes for those who love to be outdoors.
What amenities are near Aubeterre-sur-Dronne?
Aubeterre-sur-Dronne might be a small, countryside village but it is in an excellent location with shopping facilities nearby - both city centre shopping and wonderful local markets for fresh produce. The village is also only a short drive from major transport hubs which make the area very accessible.
Bergerac Airport (69 km)
Bordeaux Airport (106 km)
Angoulême train station (50 km)
Nearest towns: Ribérac, Cognac and Bergerac
Nearest cities: Angoulême, Périgueux and Bordeaux
Get an expert insider's view of the Aubeterre-sur-Dronne agency of Beaux Villages Immobilier. Our experienced (independent property consultants), Helen Stothard and Mike Sweetman, offer their personal tips to help you discover a bit more about the types of property available in the area.
What are the typical features of properties in Aubeterre?
Typical properties in this rural area are mainly made of white stone. In Aubeterre-sur-Dronne, there are village houses with little outdoor space but the riverbeach is on your doorstep. Properties around Aubeterre tend to be very pretty, with pools, often in a hamlet, and quite affordable. Lots of properties have lovely views thanks to the rolling countryside.
What is the average cost of properties in Aubeterre?
The minimum price in this area is around 140 000€, you won't really find much for less than that. So we are looking at around 140 000€ and upwards mainly.
Give us a best-kept secret about Aubeterre
There is a magnificent viewpoint at the top of the village, on the street that goes down to the château.
What are the local market trends in Aubeterre? Are there many properties on the market? Is the local area increasingly popular?
It's always been a popular village and that hasn't changed. It has easy access to chalais where there is a train station and there is good access to larger towns like Bergerac or cities like Angoulême or Bordeaux. The lovely architecture makes the region very popular.