Estate Agency in Barbezieux-Saint-Hilaire
Our estate agency in Barbezieux-Saint-Hilaire has a wide range of properties for sale in the town and the surrounding areas of the Charente. In 2022, Beaux Villages Immobilier joined forces with a friendly competitor growing the size of our local team. The agency is located in the heart of the town.
If you are looking to buy a property in the area, the team are ready to help. They can also provide a market appraisal for your property if you are considering selling. Simply give them a call, email, or drop into the agency.
Beaux Villages Immobilier sells properties across the whole of South West France. Click here to see all our agency locations.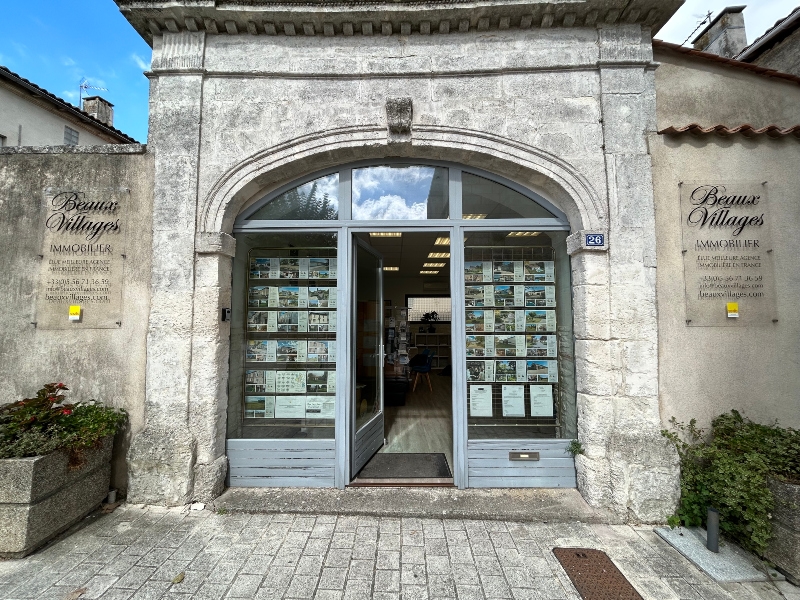 Address
26 Rue Élie Vinet
16300 Barbezieux-Saint-Hilaire
Charente


Opening Hours
Monday to Friday 9am - 12pm, 2pm - 6pm
Saturday 9am - 12pm
Phone
+33 (0)5 56 71 36 59
+33 (0)8 05 69 23 23 Free from France
+44 (0)800 270 0101 Free from the UK


Email
---
End of content
No more pages to load
What is there to see and do in Barbezieux-Saint-Hilaire?
Barbezieux-Saint-Hilaire is a small town in an ideal rural location. The town boasts some beautiful architecture, with plenty of pretty properties dating from the 18th and 19th centuries. The Château, an absolute must see, is classed as a historical monument and has been since 1913. The Château is also home to a concert room and theatre. The church Saint-Mathias is also worth a visit, dating from the 12th century, the church is architecturally imposing and home to impressive paintings and stained glass windows.
What events take place in Barbezieux-Saint-Hilaire?
Three weekly markets are organised in Barbezieux-Saint-Hilaire, on Tuesday, Friday and Saturday mornings. A larger market takes place on the second Tuesday of each month.
The town's cinema offers plenty of screenings for all ages.
An annual trade fair is organised at the beginning of September and it attracts a wide range of exhibitors and participants. The fair offers entertainment for all the family including games and concerts.
What is there to see and do in Charente and the surrounding areas of Barbezieux-Saint-Hilaire?
Famed worldwide for its Cognac production, the Charente is second only to Provence for the number of sunshine hours per year. The vines flourish under these conditions and stretch for miles in orderly ranks giving a distinctive look to much of the countryside.
The Charente river flows through the department and the city of Angoulème (35 km), which hosts an amazing weekend of classic car racing around the old city ramparts each September, where Bugattis battle it out with Rileys and MGs.The city also holds a world famous International Comic Book Festival each January, which attracts approximately 200 000 visitors!
A few must-see places in the department include Aubeterre-sur-Dronne (38 km) which is listed as one the Plus Beaux Villages de France (one of the most beautiful villages in France), Cognac (34 km) itself and La Rochefoucauld (57 km) with its magnificent chateau. Verteuil-sur-Charente (72 km), listed among the Petites Cités de Caractère, a label which recognises remarkable heritage, is a lovely day out, as is its neighbour Ruffec (77 km).
For those who are looking for relaxation, head over to Jonzac (24 km) and enjoy the thermal springs this spa town has to offer. For nature lovers, a walk round the blue lakes of Touvérac (13 km) (les étangs bleus de Touvérac) is a must - but no diving in as swimming is strictly forbidden in these lakes!
What amenities are near Barbezieux-Saint-Hilaire?
Barbezieux-Saint-Hilaire is a town with many amenities such as supermarkets and banks. The town benefits from an excellent location between major transportation axes and being near to the coast.
Châteauneuf-sur-Charente train station (18 km)
Angoulême train station (37 km)
Bordeaux airport (92 km)
Limoges airport (130 km)
Bergerac airport (109 km)
Poitiers airport (144 km)
Nearest cities: Bordeaux, Angoulême, Limoges, Poitiers
Get an expert insider's view of the Barbezieux agency of Beaux Villages Immobilier. Our experienced property consultant, Alexandre Sideratos, offers his personal tips to help you discover a bit more about the types of property available in the area.
What are the typical features of properties in Barbezieux-Saint-Hilaire?
In Barbezieux, there are lots of old townhouses. On the outskirts of the town, there are more recently built properties which are mainly bungalows. In the surrounding countryside, there are mainly very old buildings - traditional charentaise type properties.
What is the average cost of properties in Barbezieux-Saint-Hilaire?
The majority of our properties are generally worth between 150 000€ and 200 000€.
Give us a best-kept secret about Barbezieux-Saint-Hilaire
Barbezieux has a very popular rugby club which attracts lots of people at the weekend!
What are the local market trends in Barbezieux-Saint-Hilaire? Are there many properties on the market? Is the local area increasingly popular?
The area has always been a popular one due to its location halfway between Bordeaux and Angoulême, and this is still the case today.