Estate Agency in Bellac
Our estate agency in Bellac has a wide range of properties for sale in the town and the surrounding areas of the Haute-Vienne. In 2021, we opened a brand new agency in the heart of this dynamic town, as a base for our energetic, motivated and welcoming local team.
If you are looking to buy a property in the area, the team are ready to help. They can also provide a market appraisal for your property if you are considering selling. Simply give them a call, email, or drop into the agency.
Beaux Villages Immobilier sells properties across the whole of South West France. Click here to see all our agency locations.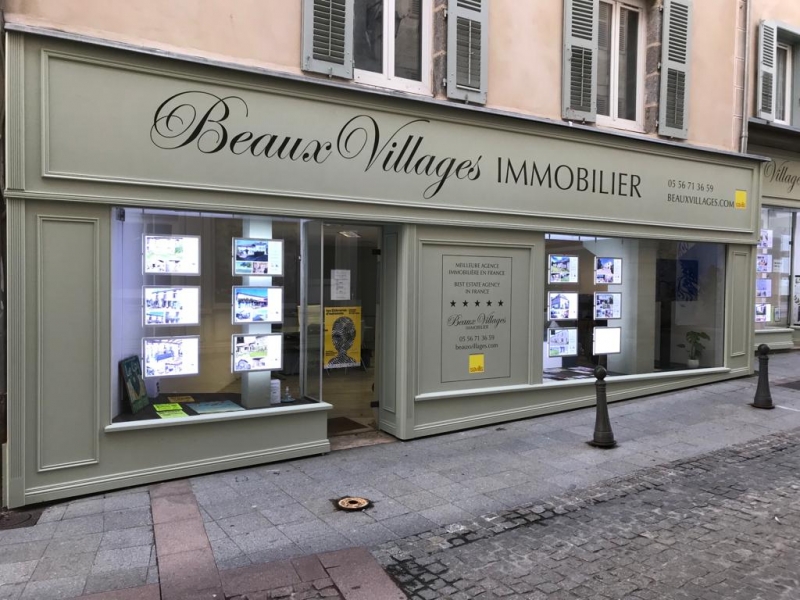 Address
46 Rue du Coq
87300 Bellac
Haute-Vienne


Opening Hours
Tuesday to Thursday 9am - 12.30pm, 2pm - 5.30pm
Phone
+33 (0)5 56 71 36 59
+33 (0)8 05 69 23 23 Free from France
+44 (0)800 270 0101 Free from the UK


Email
---
End of content
No more pages to load
What is there to see and do in Bellac?
Bellac is an old town with plenty of history and monuments to discover. From the 13th century stone bridge, you will have beautiful views of the town. The banks of the river are also enjoyable to walk and picnic along. In the town, an array of historic monuments can be observed as you wander around, the 17th century town hall is very impressive with its small towers, as are many of the houses dating from the 15th to 17th centuries.
The highlight in Bellac though is the Notre-Dame church. Construction began in the 12th century but it was not completed until the 15th century, both Roman and gothic styles can therefore be seen in its architecture.
There are also two chapels which can be visited in this town: the Notre-Dame-de-Lorette chapel and the Chapelle des Pénitents Blancs.
What events take place in Bellac?
Bellac hosts a weekly market every Saturday morning where you can buy local and fresh produce. On the first Saturday of each month, a larger market is organised.
The Festival National de Bellac is an annual event which takes place in July and during which plays, concerts and shows are organised.
Every two years, a fête de l'agneau (lamb festival) is held in the town, with tastings and an evening meal for attendees.
What is there to see and do in Haute-Vienne?
Home to remarkable heritage, bountiful nature and a variety of cultural and artistic events, the Haute-Vienne is a charming destination with something for everyone. Although famous for its limousine beef, several other regional specialities can be found in Haute-Vienne such as Potato Pie (pâté de pommes de terre) or the galétou - a regional savoury pancake.
The department has a rich history and is home to the village of Oradour-sur-Glane (25 km), an important Second World War memorial - almost all of the village's inhabitants were massacred in 1944 and the ruins of the village have been left to serve as a permanent memorial. The city of Limoges (39 km), famous of course for its porcelain, is bursting with art and history and well worth a visit. For younger visitors, the Parc Zoo du Reynou (53 km) and Aquarium du Limousin (45 km) are sure to be popular! The leisure lake Lac de Saint-Pardoux (30 km) offers a range of activities and is also fun for all the family.
Two villages near Bellac which are well worth a visit: Mortemart (14 km) which is recognised as a Plus Beaux Villages de France (an association that recognises the Most Beautiful Villages in France), and Le Dorat (12 km), which is classed among the Petites Cités de Caractère (a label awarded to certain villages and which aims at preserving remarkable heritage).
What amenities are near Bellac?
Bellac is a town with many much needed amenities such as supermarkets and banks. There is also a train station which is of course very useful. Bellac benefits from a great location due to its proximity to the cities of Angoulême, Limoges and Poitiers.
Bellac train station
Limoges airport (34 km)
Poitiers airport (92 km)
Nearest cities: Angoulême, Poitiers, Limoges
Get an expert insider's view of the Bellac agency of Beaux Villages Immobilier.Our experienced independent property consultant, Chris Summers, offers his personal tips to help you discover a bit more about the types of property available in the area.
What are the typical features of properties in Bellac?
In Bellac, there are mainly pretty stone town houses, often on 3 floors but some small cottage style. On the edge of the town, in hamlets, there are lots of barn conversions and farmhouse-style properties which retain many of their original features despite being renovated.
What is the average cost of properties in Bellac?
A 3 bed townhouse on 3 floors in Bellac costs between 85 000€ to 100 000€ approximately.
A 3 bed barn conversion on the edge of town, around 10 minutes by car to Bellac, costs about 185 000€ to 200 000€ and may come with a few acres of land.
Give us a best-kept secret about Bellac
At the bottom of the town, near to the river, is a mediaeval area with a church, winding cobbled streets and beautiful stone houses. Many people don't go this far when visiting Bellac, although it is definitely worth it and it is part of the "Architectes des Bâtiments de France".
What are the local market trends in Bellac? Are there many properties on the market? Is the local area increasingly popular?
In the last few years, since COVID in particular, the town is increasingly busy, with many new artisan shops opening. This is making the High Street active with a large demand for properties, especially those that are walking or cycling distance into town (rather than the more rural properties). Bellac has been quoted in numerous publications in the UK and in France as being a forward thinking, up and coming place to live since COVID.