Estate Agency in Cénac-et-Saint-Julien
Our estate agency in Cénac-et-Saint-Julien, next to Domme and near Sarlat, has a wide range of properties for sale in the village and the surrounding areas of the Dordogne. In 2023, Beaux Villages Immobilier opened the agency in this thriving village as a new base for our local team.
If you are looking to buy a property in the area, the team are ready to help. They can also provide a market appraisal for your property if you are considering selling. Simply give them a call, email, or drop into the agency.
Beaux Villages Immobilier sells properties across the whole of South West France. Click here to see all our agency locations.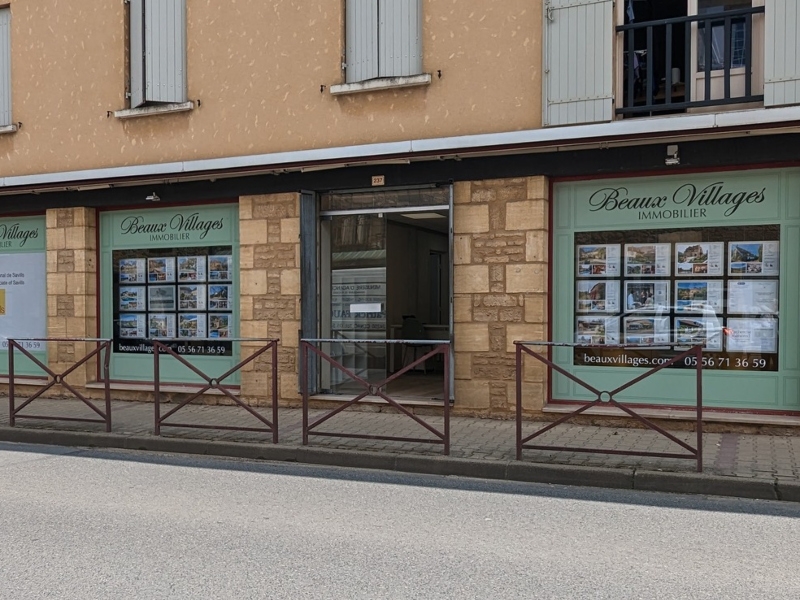 Address
237 Rue de la République
24250 Cénac-et-Saint-Julien
Dordogne


Opening Hours
By appointment
Phone
+33 (0)5 56 71 36 59
+33 (0)8 05 69 23 23 Free from France
+44 (0)800 270 0101 Free from the UK


Email
---
End of content
No more pages to load
What is there to see and do in Cénac-et-Saint-Julien?
Cénac-et-Saint-Julien is a small village with two historical monuments: the Cénac church and the Saint-Julien church. Cénac-et-Saint-Julien is home to a priory dating from 1090. The village is also home to several prehistoric caves which are also considered historical monuments.
The village is at the foot of the more famous village of Domme. Domme is recognised as a Plus Beaux Villages de France (one of the Most Beautiful Villages in France) and is a popular tourist destination. Domme is a bastide village where you are surrounded by remarkable architecture and heritage.
What events take place in Cénac-et-Saint-Julien?
A weekly market is held each Tuesday in Cénac-et-Saint-Julien. In Domme, the weekly market takes place on a Thursday morning, in the summer it is on all day (between June and September).
A variety of cultural events are organised throughout the year in Domme and the surrounding villages. Some annual events include the Fête des Confréries et des Vins de la Dordogne which is held in August and celebrates local produce and wine.
What is there to see and do in Dordogne?
With its soft rolling hills, woodland, fields of sunflowers, vineyards and sparkling rivers, the Dordogne presents a warm and welcoming environment.
This is a region criss-crossed with footpaths for walking and riding, the rivers are perfect for leisurely canoeing or fishing and there are historical sites at every turn. The principal town of Perigueux (75 km) has a charming mediaeval centre with a wide range of shops and restaurants and twice weekly markets spilling through the winding streets. Don't miss the excellent Vèsunna Gallo-Roman museum.
Riberac (120 km) has, reputedly, the department's biggest market (on a Friday) and Ste Foy La Grande's (93 km) Saturday market is well worth a visit.
From Bergerac (70 km) along the Dordogne valley through Lalinde (49 km), to Sarlat (14 km) there is an almost endless parade of breathtaking towns and villages.
Foodies will find plenty to please them including the locally produced ducks and foie gras, walnuts and prunes and wines from the world-famous Bergerac vines.
Close to Cénac-et-Saint-Julien is the town of Sarlat. One of the most famous towns in the Dordogne with endless historic monuments and beautiful architecture in each winding street. The town is most definitely worth visiting, ensure you go to the Sarlat Tourist Office and pick up a map so you don't miss anything. Sarlat's old town is a UNESCO World Heritage Site that is not to be missed! It is also surrounded by stunning villages such as La Roque-Gageac (6 km), Castelnaud-la-Chapelle (12 km) and Beynac-et-Cazenac (11 km) which are all recognised as Plus Beaux Villages de France (the Most Beautiful Villages in France).
What amenities are near Cénac-et-Saint-Julien?
Cénac-et-Saint-Julien is a small village but being at the foot of the larger village of Domme and only a short distance from Sarlat, means there are plenty of amenities nearby.
Sarlat-la-Canéda train station (13 km)
Bergerac airport (70 km)
Limoges airport (170 km)
Bordeaux airport (200 km)
Nearest towns: Sarlat-la-Canéda, Bergerac, Villeneuve-sur-Lot
Nearest cities: Périgueux, Montauban, Bordeaux
Get an expert insider's view of the Cénac-et-Saint-Julien agency of Beaux Villages Immobilier. Our experienced property consultant, Juliette Bailey, offers her personal tips to help you discover a bit more about the types of property available in the area.
What are the typical features of properties in Cénac-et-Saint-Julien?
The properties in and around Cénac-et-Saint-Julien are very périgourdine in their style, constructed in warm stone and with steeply pitched roofs. The area is largely rural and the homes have lots of character like exposed beams, old stone sinks, and pisé (riverstone) flooring, a very original feature. They tend to have some land around.
What is the average cost of properties in Cénac-et-Saint-Julien?
For a 3 bedroom stone house with land and a swimming pool in this area prices range between 300 000€ and 400 000€. The area is highly desirable due to its natural beauty and popularity with tourists.
Give us a best-kept secret about Cénac-et-Saint-Julien
There is a listed tree in Cénac, called "Thermidor" - he was planted in 1750 and his trunk measures 7.6m around at his widest part 1.3m off the ground. He's 45m high and I assume still growing as he has his roots in the town lavoir. He is protected as an arbre remarquable and he gives shade to the ecole maternelle which they appreciate.
What are the local market trends in Cénac-et-Saint-Julien? Are there many properties on the market? Is the local area increasingly popular?
The region is very popular, we are very close to the Dordogne hotspots - the must see's of Domme, Sarlat-la-Caneda, the valley of the chateaux and the epicentre of prehistoric man Les Eyzies and the Lascaux caves are all within 30 minutes. As a result there is always a buoyant market here - people retiring, buying/selling second homes and looking for investments for rental.