Estate Agency in Jarnac
Our estate agency in Jarnac has a wide range of properties for sale in the town and the surrounding areas of the Charente. Beaux Villages Immobilier opened in Jarnac in 2022 after joining forces with a friendly competitor. The team stayed on and works in collaboration with our other nearby agencies. The agency is situated in the heart of the town.
If you are looking to buy a property in the area, the team are ready to help. They can also provide a market appraisal for your property if you are considering selling. Simply give them a call, email, or drop into the agency.
Beaux Villages Immobilier sells properties across the whole of South West France. Click here to see all our agency locations.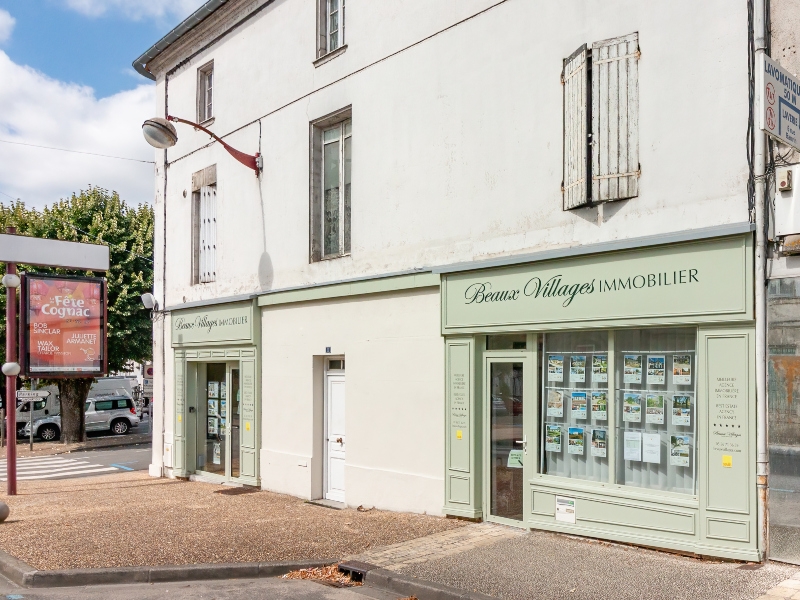 Address
1 Rue Condé
16200 Jarnac
Charente


Opening Hours
Monday to Friday 9am - 12pm, 2pm - 5.30pm
Phone
+33 (0)5 56 71 36 59
+33 (0)8 05 69 23 23 Free from France
+44 (0)800 270 0101 Free from the UK


Email
---
End of content
No more pages to load
What is there to see and do in Jarnac?
Jarnac is the birthplace of former French President François Mitterrand. It is possible to visit the house where he was born and where he lived for several years, there is also a museum dedicated to François Mitterrand where you can observe a range of personal items that belonged to the former President. Following his death, he was buried in Jarnac's cemetery and his grave can be visited.
Jarnac is home to several historical monuments which you can admire as you wander around the town and stroll along the banks of the Charente river. The most notable monuments are the church Saint-Pierre and its crypt. Jarnac is often referred to as the second home of cognac and you can visit distilleries here such as Courvoisier and Hine Cognac.
The river is great fun for those who enjoy canoeing and kayaking.
What events take place in Jarnac?
Jarnac is a town offering plenty of cultural events throughout the year, these include cinema screenings, a comedy club, concerts and plays. Seasonal events are also organised like Anim'Automne which is dedicated to autumn and includes a variety of shows, a similar event is planned during the winter.
The famous Cognac marathon passes through Jarnac which is a fun and inspirational day out for all of the family.
A covered market is open everyday except for Sundays and Wednesdays, extra stands are present at the market on Tuesdays and Saturdays. A larger market is organised on the first Saturday of each month on the Place du Château. An annual Christmas market also takes place and spreads the festive spirit!
What is there to see and do in Charente?
Famed worldwide for its Cognac production, the Charente is second only to Provence for the number of sunshine hours per year. The vines flourish under these conditions and stretch for miles in orderly ranks giving a distinctive look to much of the countryside.
The Charente river flows through the department and the city of Angoulème (31 km), which hosts an amazing weekend of classic car racing around the old city ramparts each September, where Bugattis battle it out with Rileys and MGs. The city also holds a world famous International Comic Book Festival each January, which attracts approximately 200 000 visitors!
There are several interesting places to visit near to Jarnac such as the Saint Etienne Abbey in Bassac (8 km), the Châtres Abbey (8km) and the picturesque village of Tusson (38 km). A must see village is Aubeterre-sur-Dronne (66 km) which is classed among the Plus Beaux Villages de France (the most beautiful villages in France). Of course, Cognac (16 km) is well worth a visit also.
What amenities are near Jarnac?
Jarnac is home to a range of amenities including a train station. Its proximity to Angoulême is excellent and the town is very well located in terms of access to airports.
Jarnac train station
Angoulême train station (30 km)
Poitiers airport (138 km)
Limoges airport (124 km)
Bordeaux airport (120 km)
Nearest towns: Cognac, Barbezieux-Saint-Hilaire
Nearest cities: Angoulême, Bordeaux, Poitiers, Limoges
Get an expert insider's view of the Jarnac agency of Beaux Villages Immobilier. Deborah Joguet, who has worked in this sector for over 20 years, offers her personal tips to help you discover a bit more about the types of property available in the area.
What are the typical features of properties in Jarnac?
In Jarnac, there are mainly stone properties. Typical houses in this region are farmhouses or charentaise style properties.
What is the average cost of properties in Jarnac?
The average cost of a property in Jarnac is between 250 000€ and 500 000€. For 500 000€, you can find a very lovely charentaise style property, and for 250 000€, you can find a beautiful townhouse.
Give us a best-kept secret about Jarnac
The Ile aux dames which is a very pretty small island in the middle of the Charente river.
What are the local market trends in Jarnac? Are there many properties on the market? Is the local area increasingly popular?
The area is increasingly popular, especially as Jarnac is a small town which has everything you need and is in a good location, ideally situated between Cognac and Angoulême and on the banks of the Charente river!