Estate Agency in Jonzac
Our estate agency in Jonzac has a wide range of properties for sale in the town and the surrounding areas of the Charente-Maritime. We opened our agency in this pretty riverside town in 2014 and our successful team has grown and grown. Our agency is well located in the town centre and very close to the river.
If you are looking to buy a property in the area, the team are ready to help. They can also provide a market appraisal for your property if you are considering selling. Simply give them a call, email, or drop into the agency.
Beaux Villages Immobilier sells properties across the whole of South West France. Click here to see all our agency locations.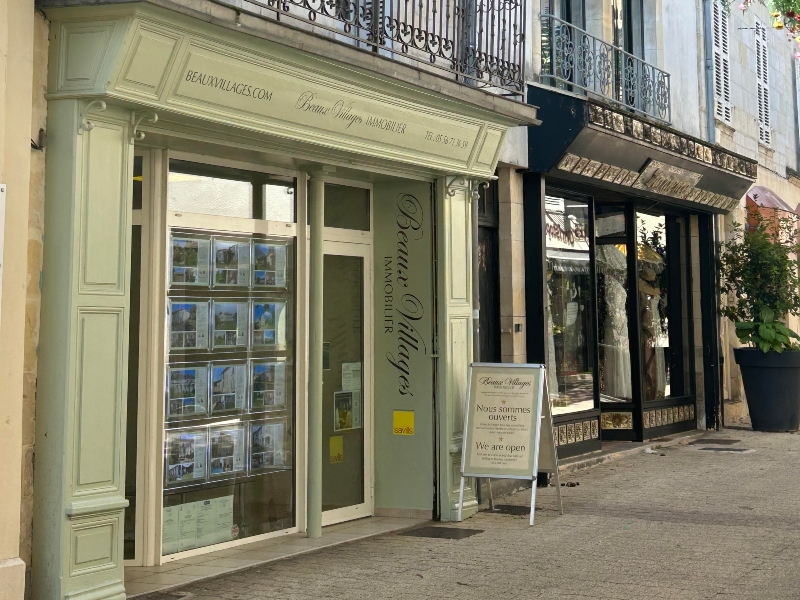 Address
3 Rue de Verdun
17500 Jonzac
Charente-Maritime


Opening Hours
Monday to Friday 9am - 2pm
Phone
+33 (0)5 56 71 36 59
+33 (0)8 05 69 23 23 Free from France
+44 (0)800 270 0101 Free from the UK


Email
---
End of content
No more pages to load
What is there to see and do in Jonzac?
Jonzac is a spa town making it a popular destination for those wishing to benefit from the thermal springs which were only discovered in 1979. For those who love water, Jonzac is also home to the water leisure complex Les Antilles de Jonzac which is a very popular day out that the whole family can enjoy.
For those who prefer to keep their feet firmly on dry land, there are plenty of attractions to visit! Dating from the 15th century, you can visit the Château de Jonzac and discover the history this monument has to offer. You can also admire the architecture of the Church Saint-Gervais Saint-Protais and of the mediaeval buildings in the small streets found in the old town.
Jonzac is also home to a working windmill and watermill! The windmill produces flour and the watermill produces walnut oil; you can visit both as millers will be your guides all year round.
What events take place in Jonzac?
Jonzac has three weekly markets on Tuesday, Friday and Saturday mornings along with a smaller market organised on a Sunday morning. On the second Friday of each month, a larger market takes place. Every Wednesday between mid-June and mid-September, a market is also organised from 6pm onwards where you can enjoy local produce during the long summer evenings.
Two annual brocantes take place, the first one in June and the second in October for those who are hunting for antiques and interesting objects for their homes!
Various events take place in Jonzac throughout the year, such as concerts, plays and festivals for all ages.
What is there to see and do in Charente-Maritime?
Charente Maritime is a lucky department which enjoys a coastline and therefore benefits from the resulting mild winters. This micro-climate (officially sub-mediterranean!) means that olives, mimosa, palms and oleander flourish.
The coastal landscape varies widely, from open grassy plains where the local cattle graze to wild salt marshes and tall limestone cliffs. This is where the mighty Gironde river makes its way into the Atlantic and the mouth of the river is dotted with charming little ports and harbours which retain a truly French feel. This area is very popular with the French.
Local produce including the aperitif Pineau (a blend of cognac and grape juice) is a must-try along with the locally produced caviar.
Worth a look are Mortagne-sur-Gironde (30 km), Saintes (41 km) for its Roman architecture and Royan (60 km) - a lovely, busy harbour town with a great zoo nearby at La Palmyre. For urban lifestyle lovers, La Rochelle (118 km) is a small coastal city with plenty of activities, restaurants and walks on offer. The Ile de Ré (139 km), Ile d'Aix (101 km) and Ile d'Oléron (110 km) are also particularly popular during the summer months and you can also visit Fort Boyard (112 km), a castle built on an island by Napoléon which is now very famous in France after a TV quiz show was filmed there. The show was reproduced for the UK market fronted by Richard O'Brien.
Moving away from the beaches and looking for inland activities, the stunning town of Rochefort (87 km) is a lovely day out, as is the beautiful town of Saint-Jean-d'Angély (76 km).
What amenities are near Jonzac?
Jonzac is a small spa town which has lots of amenities readily available. It also benefits from its own train station and international airports are easily accessible.
Jonzac train station
Bordeaux airport (96 km)
La Rochelle airport (119 km)
Bergerac airport (129 km)
Limoges airport (153 km)
Nearest towns: Cognac, Pons, Saintes, Royan
Nearest cities: La Rochelle, Bordeaux, Angoulême
Get an expert insider's view of the Jonzac agency of Beaux Villages Immobilier. Our experienced (independent property consultants), Helen Stothard and Mike Sweetman, offer their personal tips to help you discover a bit more about the types of property available in the area.
What are the typical features of properties in Jonzac?
Jonzac is a town and the properties here are mainly tall townhouses, often on 3 levels, with small gardens. The houses are often attached to one another in small, quiet streets. The roads are fairly quiet in Jonzac and some are even pedestrianised.
What is the average cost of properties in Jonzac?
In Jonzac itself, properties cost a minimum of 200 000€ and that is rare. Properties fly off the market here because it is a sought after spa town.
Give us a best-kept secret about Jonzac
It's very easy access to the coast - only a 40 minute drive from Jonzac itself and you are at the beach!
What are the local market trends in Jonzac? Are there many properties on the market? Is the local area increasingly popular?
It is increasingly popular, particularly as it is a spa town. It's also still affordable for a coastal area - in one of the surrounding villages you can be 20 minutes away from the beach but in a place which is still very affordable.