Estate Agency in Limoux
Our estate agency in Limoux has a wide range of properties for sale in the town and the surrounding areas of the Aude. In 2021, we opened our agency in Limoux for our local team, and they have become part of the local community.
If you are looking to buy a property in the area, the team are ready to help. They can also provide a market appraisal for your property if you are considering selling. Simply give them a call, email, or drop into the agency.
Beaux Villages Immobilier sells properties across the whole of South West France. Click here to see all our agency locations.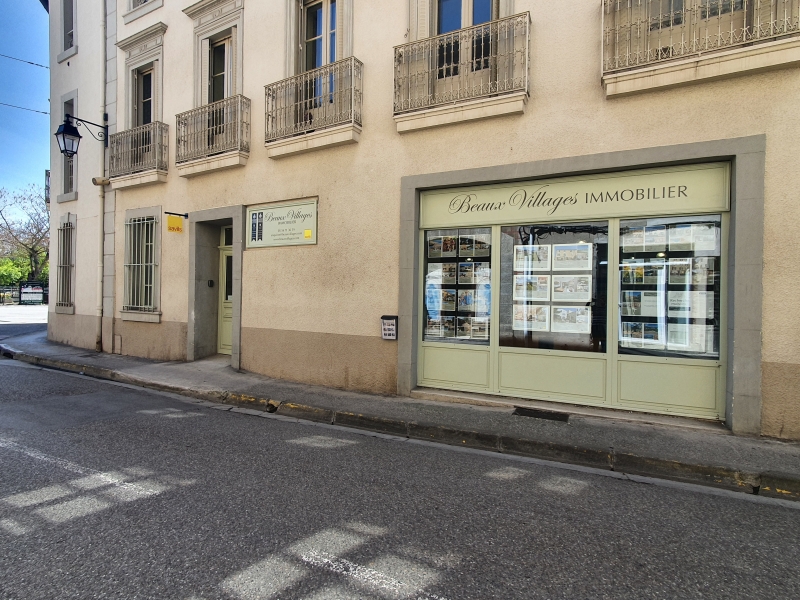 Address
1 Rue Maurice Lacroux
11300 Limoux
Aude


Opening Hours
Monday and Tuesday 9am - 1pm, 2pm - 6pm
Phone
+33 (0)5 56 71 36 59
+33 (0)8 05 69 23 23 Free from France
+44 (0)800 270 0101 Free from the UK


Email
---
End of content
No more pages to load
What is there to see and do in Limoux?
Limoux is a historical town home to buildings dating back to the 15th and 16th centuries. On the main square, you can observe a large fountain, along with mediaeval and renaissance period buildings.
The two bridges in Limoux - Pont Neuf (which is ironically the oldest bridge of the two) and Pont Vieux, offer beautiful views of the town. The Pont Neuf has particularly exceptional views of the impressive church Saint-Martin, which is also a must see.
Limoux has a large range of cultural activities on offer with its five museums and library. You can visit the Musée du Piano, which is the only museum dedicated to pianos in France.
What events take place in Limoux?
A weekly market where you can buy fresh produce is organised every Friday, and two smaller markets are organised on Thursday and Sunday mornings. During the summer months of July and August, an evening market takes place every Tuesday night and it is a perfect way to spend a warm summer's evening.
On the first Sunday of each month, a brocante is organised in the town and is perfect for antique lovers!
Limoux has a wide range of cultural events on offer, including concerts, plays, festivals and tastings. Limoux Brass Festival is an annual event that lasts five days and is dedicated to brass instruments. Fans of the famous local sparkling wine, Blanquette de Limoux, will find that various tastings are organised throughout the year.
A highlight in this town though is its carnaval. The Carnaval de Limoux lasts for three months and is the longest in the world! It takes place every Saturday and Sunday between January and March.
What is there to see and do in Aude?
The department of the Aude offers a magical and varied scenery. In the east is a series of coastal lakes. These brackish waters are home to exotic birdlife including white stilts and pink flamingos.
Further inland the dry scrublands host many species of wild orchid, pyrénéen lilies and numerous wild mushrooms.
To the north and west, the black hills are covered with oak and beech forests. Hot dry summers favour vines and olive trees.
The Aude is Cathar country with the magnificent fortified city of Carcassonne (25 km) at its heart. The city is well worth a visit and is a Unesco World Heritage Site.
There is no shortage of châteaux to visit in Aude, and the Cinq fils de Carcassonne - five very famous Châteaux, all offering spectacular views, can be visited.
Near to Limoux, the pretty villages of Rennes-Le-Château (20 km) and Quillan (28 km), with their rich history and heritage are well worth a visit, as is Lagrasse (50 km) which is recognised as a Plus Beaux Villages de France (Most Beautiful Villages in France). And for nature lovers, magnificent scenery can be found in the Gorges de l'Aude (60 km).
What amenities are near Limoux?
Limoux is a town with several amenities on offer, including a train station. Despite its rural location, the town is only a short distance from international transport links and excellent city centre shopping facilities.
Limoux train station
Toulouse airport (109 km)
Perpignan airport (93 km)
Nearby towns: Carcassonne
Nearest cities: Toulouse, Perpignan
Get an expert insider's view of the Verteillac agency of Beaux Villages Immobilier. Our experienced independent property consultant, Daniela Harris, offers her personal tips to help you discover a bit more about the types of property available in the area.
What are the typical features of properties in Limoux?
In the centre of Limoux, there are typical old mediaeval townhouses; on the outskirts there are villas in lotissements, which are new housing developments. In the hills above Limoux, there are large Mediterranean style houses which are often more expensive. The properties in Limoux often have red roofs and can have a catalan feel about them. Limoux is a bastide town so it is built in a grid formation.
To the south of Limoux, in the Corbières hills, you'll predominantly find stone houses which are quite isolated. And to the north of Limoux, we move more into farmland country.
What is the average cost of properties in Limoux?
The cost of properties in Limoux varies greatly as each area of the region is so different, if buying a property in the region you will need to have a local agent who can give you some sort of sense about it as you can't really make comparisons! There really is something for everyone and every budget.
Generally though, the properties found in the town and the lotissements tend to be quite affordable.
Give us a best-kept secret about Limoux
There is always something going on in Limoux! It has one of the oldest running carnivals in the world which lasts for a few months and then once that finishes, something else is on.
What are the local market trends in Limoux? Are there many properties on the market? Is the local area increasingly popular?
Yes it is increasingly popular, the Aude in general has always been a best kept secret for foreign buyers - but the French have always loved this region. There are lots of places for wild swimming and water sports that aren't on the mediterranean coast and therefore aren't full with tourists. It can be much nicer than the heat bowl that is Provence.