Estate Agency in Montaigu-de-Quercy
Our estate agency in Montaigu-de-Quercy has a wide range of properties for sale in the village and the surrounding areas of the Tarn-et-Garonne. We opened our first agency in Montaigu in 2013, and we have since moved into bigger premises to accommodate our growing team. The agency sits at the foot of the village and is easy to access, with plenty of parking nearby.
If you are looking to buy a property in the area, the team are ready to help. They can also provide a market appraisal for your property if you are considering selling. Simply give them a call, email, or drop into the agency.
Beaux Villages Immobilier sells properties across the whole of South West France. Click here to see all our agency locations.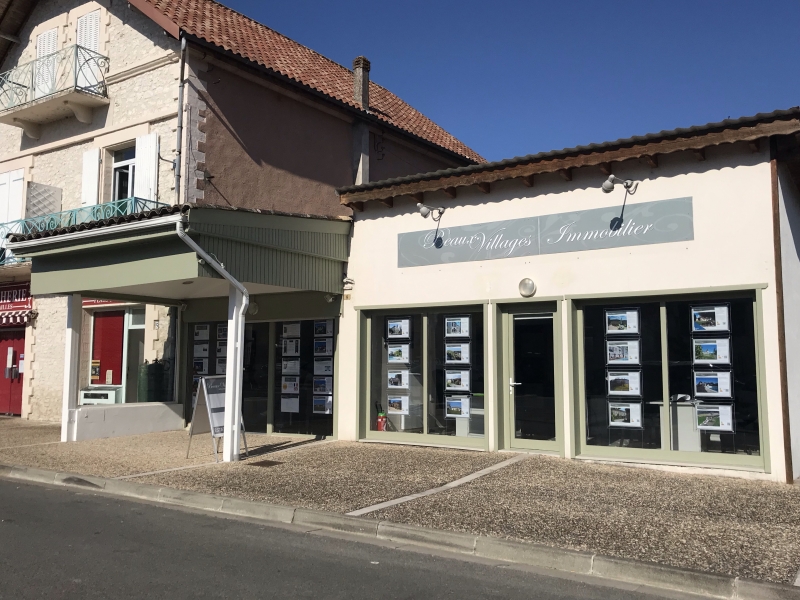 Address
6 Place du Mercadiel
82150 Montaigu-de-Quercy
Tarn-et-Garonne


Opening Hours
Monday to Friday 9.30am - 1pm
Phone
+33 (0)5 56 71 36 59
+33 (0)8 05 69 23 23 Free from France
+44 (0)800 270 0101 Free from the UK


Email
---
End of content
No more pages to load
What is there to see and do in Montaigu-de-Quercy?
Located in the Tarn-et-Garonne department, Montaigu-de-Quercy is a 12th century village which was granted the "Station Verte" label in 1993, which is awarded to villages and towns who are committed to ecotourism in rural areas.
Montaigu-de-Quercy has a central square and some traditional half timbered houses can still be found in the village. After enjoying a walk around this pretty village and taking in the stunning viewpoints, don't forget to go to the leisure lake where you will find sandy beaches, bars and restaurants and plenty of activities.
What events take place in Montaigu-de-Quercy?
A traditional weekly market is held in Montaigu-de-Quercy every Saturday, where you can pick up delicious, local and fresh produce.
A yearly festival with fairground rides, a 'brocante' and dance also takes place during a weekend in May - a favourite among younger audiences.
What is there to see and do in the Tarn-et-Garonne?
The Tarn-et-Garonne is a department with plenty going on. Its history means there are several historic sites which are worth a visit.
Moissac (33 km), with its abbey and cloister, is a top recommendation. The Saint-Pierre abbey is classed as a UNESCO World Heritage site and the cloister itself is also classed as a World Heritage site.
One of the main attractions in Tarn-et-Garonne is the city of Montauban (53 km). Famous for its pink bricks and home to an impressive range of cultural activities, Montauban is most certainly worth visiting. Other impressive visits in the department include the village Lauzerte (17 km), which is recognised as one of the Plus Beaux Villages de France (Most Beautiful Villages in France) and the village Auvillar (43 km) with its incredible architecture!
Slightly further afield but a fun activity for all of the family is the Bosc cave (76 km), which is home to a variety of stalagmites and stalactites. Keeping with the theme of caves, Bruniquel (74 km) is also a fun family day out, where you can learn all about the Néandertal Mystery. There are also two impressive castles to visit in the village of Bruniquel.
For nature lovers, there are plenty of hiking trails, the Cirque de Bône (72 km) hiking trail will reward you with breathtaking views!
What amenities are near Montaigu-de-Quercy?
Montaigu-de-Quercy might be a small market town, but it is very well situated with excellent transport links within an hour's drive and it is also very close to the cultural hub of Montauban.
Agen LGV train station (40 km)
Toulouse airport (105 km)
Bergerac airport (78 km)
Bordeaux airport (185 km)
Nearest towns: Montauban, Agen, Bergerac
Nearest cities: Toulouse, Bordeaux, Périgueux
Get an expert insider's view of the Montaigu-de-Quercy agency of Beaux Villages Immobilier. Our experienced property consultant, Daniel Taylor, offers his personal tips to help you discover a bit more about the types of property available in the area.
What are the typical features of properties in Montaigu-de-Quercy?
Montaigu-de-Quercy and the surrounding areas are home to old stone properties with land, mature gardens and often swimming pools. Some properties also have stone outbuildings.
What is the average cost of properties in Montaigu-de-Quercy?
The cost of properties in and around Montaigu-de-Quercy will vary greatly ranging from stone, village houses worth approximately 80 000€ to impressive country estates worth 2 million euros and more!
Give us a best kept secret about Montaigu-de-Quercy
An annual stone carving event is held each summer in Montaigu-de-Quercy, it attracts many visitors and is an opportunity to discover stonemasonry.
What are the local market trends in Montaigu-de-Quercy? Are there many properties on the market? Is the local area increasingly popular?
Montaigu-de-Quercy, with its market and architecture, has always been a popular area and this is a continuing trend.