Estate Agency in Montmorillon
Our estate agency in Montmorillon has a wide range of properties for sale in the town and the surrounding areas of Vienne. We opened our agency in Montmorillon in 2017, and we are located on one of the main roads into the picturesque town centre.
If you are looking to buy a property in the area, the team are ready to help. They can also provide a market appraisal for your property if you are considering selling. Simply give them a call, email, or drop into the agency.
Beaux Villages Immobilier sells properties across the whole of South West France. Click here to see all our agency locations.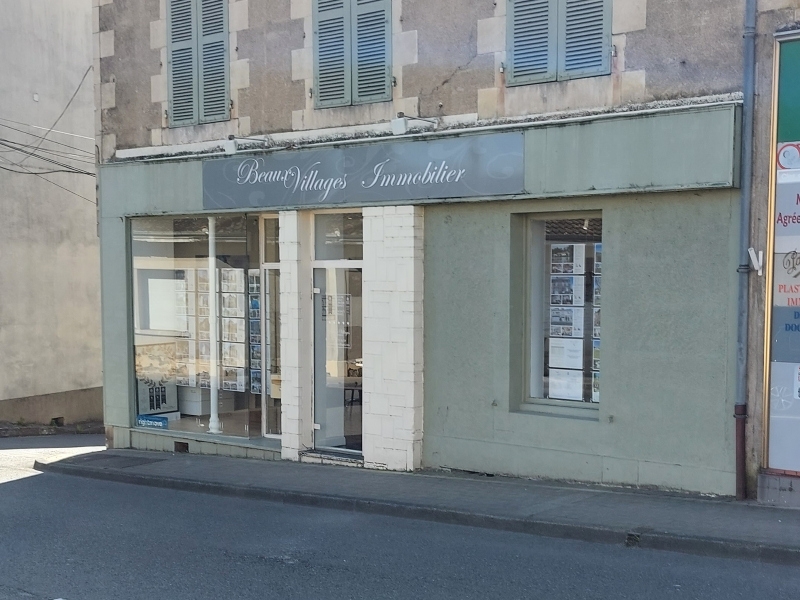 Address
19 Avenue République
86500 Montmorillon
Vienne


Opening Hours
By appointment
Phone
+33 (0)5 56 71 36 59
+33 (0)8 05 69 23 23 Free from France
+44 (0)800 270 0101 Free from the UK


Email
---
End of content
No more pages to load
What is there to see and do in Montmorillon?
Montmorillon is a charming town built along the banks of the river Gartempe. It is home to a lovely mediaeval old town, where you can wander the streets and take in the impressive architecture. In the heart of the mediaeval neighbourhood, you will also find the Cité de l'Ecrit et des Métiers du Livre which is an area dedicated to books and the publishing industry. This is a real paradise for booklovers and a haven for browsers. You will be able to spend hours in the various bookshops!
Montmorillon is also home to several architectural monuments such as the Notre-Dame church and the Sainte-Catherine crypt. In the centre of the old cemetery, you will find the Octagon dating from the 12th century and the Maison-Dieu is another wonderful monument in the town.
Montmorillon boasts a Museum of Art and History and for those who have a sweet tooth, the Musée du Macaron (Macaron museum) is a must and an opportunity to learn all about the history of the famous confection!
What events take place in Montmorillon?
Montmorillon has a diverse cultural agenda; notably the Cité du Livre organises a range of events and activities dedicated to literature throughout the whole year and in June the "Recontres de Montmorillon, littérature and territoire" also takes place.
A yearly spring festival is organised during the month of April which aims at preserving natural heritage and raising awareness around sustainability.
In June, gardens which are normally closed to the public are opened for the "Rendez-vous aux jardins" event. Throughout the summer months, the festival "Un été autrement" (A different summer) also takes place and a wide range of activities are organised providing entertainment for all.
Every Wednesday morning, there is a local food market and every December, there is a Christmas market to get you in the festive spirit!
What is there to see and do in Vienne?
One of the twelve departments that make up the Nouvelle Aquitaine region of France, the Vienne was once home to Eleanor of Aquitaine (wife of Henry II) and was a key site during the 100 Years War.
This pretty farming area offers a leisurely and peaceful way of life amidst fields of corn and sunflowers. The Vienne river meanders through and there are many attractions that make this a great area.
The Vallée des Singes (60 km), the science theme park, Futuroscope, (60 km), golf courses, boating, fishing and numerous pretty towns and villages to visit will guarantee something for everyone and every interest. The Abbey of Saint-Savin (18 km) is listed as a UNESCO World Heritage Site and well worth a visit, as is the very pretty village of Angles-sur-l'Anglin (39 km).
What amenities are near Montmorillon?
Montmorillon has its own train station and is only a short distance from the larger city of Poitiers which offers a range of amenities and transport links.
Montmorillon train station
Poitiers train station (52 km)
Poitiers airport (61 km)
Limoges airport (75 km)
Nearest towns: Châtellerault
Nearest cities: Poitiers, Limoges, Tours, Angoulême
Get an expert insider's view of the Montmorillon agency of Beaux Villages Immobilier.Our experienced independent property consultant, Chris Summers, offers his personal tips to help you discover a bit more about the types of property available in the area.
What are the typical features of properties in Montmorillon?
In Montmorillon, there are older style stone town houses, properties built in the 1920s and post-war properties. A real mix of house type is available from small cottages to town houses and detached houses
What is the average cost of properties in Montmorillon?
The townhouses in Montmorillon cost on average between 120 000€ and 150 000€. Three to four bedroom stone farmhouses and cottages on the outskirts of the town cost on average around 200 000€ but of course if you require more land, this will increase
Give us a best-kept secret about Montmorillon
It has many festivals throughout the whole summer which you may not know if you do not live there. You'll love strolling through the restored Medieval district of Montmorillon. This is where you'll find the Town-Hall and the shopping precinct. Walk from the neo-Gothic St. Martial church (19th C.) to the banks of the Gartempe River via the Grand'Rue and place du Maréchal Leclerc
What are the local market trends in Montmorillon? Are there many properties on the market? Is the local area increasingly popular?
Montmorillon has become very popular; the Gartempe river runs through the middle of this historic town making a beautiful central focus. The town is quite large, and in these post-covid times, it has become very popular with people moving out from the cities.