Estate Agency in Piégut-Pluviers
Our estate agency in Piégut-Pluviers has a wide range of properties for sale in the town and the surrounding areas of the Dordogne and the Périgord-Limousin Regional Natural Park. Beaux Villages Immobilier opened an agency in the town in 2013 after buying a friendly competitor whose experienced team stayed on. We are ideally situated in the town and surrounded by ample parking.
If you are looking to buy a property in the area, the team are ready to help. They can also provide a market appraisal for your property if you are considering selling. Simply give them a call, email, or drop into the agency.
Beaux Villages Immobilier sells properties across the whole of South West France. Click here to see all our agency locations.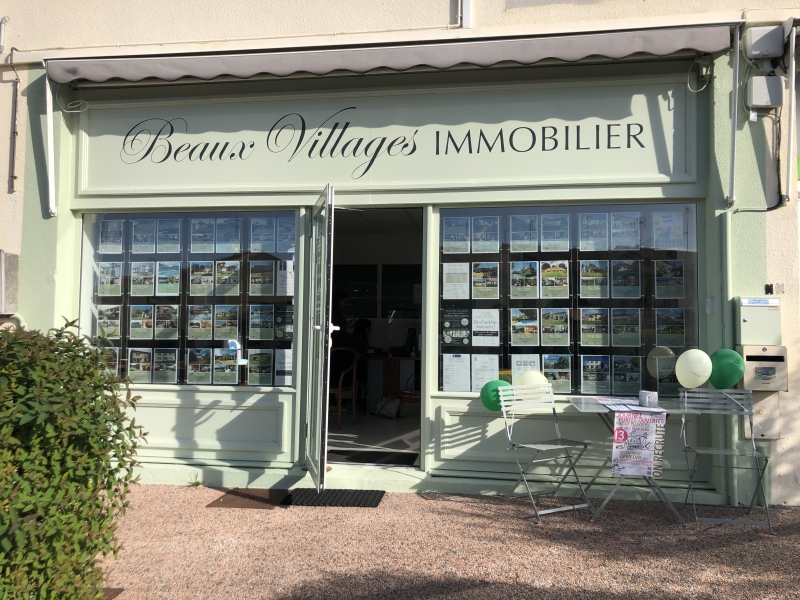 Address
1 Boulevard de l'Est
24360 Piégut-Pluviers
Dordogne


Opening Hours
Monday to Friday 9am - 1pm
Phone
+33 (0)5 56 71 36 59
+33 (0)8 05 69 23 23 Free from France
+44 (0)800 270 0101 Free from the UK


Email
---
End of content
No more pages to load
What is there to see and do in Piégut-Pluviers?
Piégut -Pluviers is home to several monuments which testify to its rich history, such as the Saint-Etienne church and the tower of Piégut-Pluviers. The tower can be visited for free and is an example of 13th century military architecture.
Piégut-Pluviers is part of the Périgord Limousin Regional Natural Park. The town is surrounded by lakes, ponds and hiking trails making it a particularly popular destination for nature lovers! The GR4 hiking trail, which spans from Royan in the Charente-Maritime all the way to Grasse in the Alpes Maritimes, passes through Piégut-Pluviers.
What events take place in Piégut-Pluviers?
A local market is held on Wednesday mornings in Piégut-Pluviers and this is one of the largest weekly markets in the Périgord so it is well worth a visit. Another excellent time to visit this rural town is in April when the spring fair and carnival are on, the event lasts for a few days each year and is of course popular among children!
What is there to see and do in Dordogne?
With its soft rolling hills, woodland, fields of sunflowers, vineyards and sparkling rivers, the Dordogne presents a warm and welcoming environment.
This is a region criss-crossed with footpaths for walking and riding, the rivers are perfect for leisurely canoeing or fishing and there are historical sites at every turn. The principal town of Perigueux (61 km) has a charming mediaeval centre with a wide range of shops and restaurants and twice weekly markets spilling through the winding streets. Don't miss the excellent Vèsunna Gallo-Roman museum.
Riberac (63 km) has, reputedly, the department's biggest market (on a Friday) and Ste Foy La Grande's (117 km) Saturday market is well worth a visit.
From Bergerac (109 km) along the Dordogne valley through Lalinde (112 km), to Sarlat (126km) there is an almost endless parade of breathtaking towns and villages.
Foodies will find plenty to please them including the locally produced ducks and foie gras, walnuts and prunes and wines from the world-famous Bergerac vines.
Located nearer to Piégut-Pluviers, we recommend visiting Nontron (13 km) with its long and rich history, as well as discovering the picturesque village of Javerlhac-et-la-Chapelle-Saint-Robert (15 km). Slightly further afield but well worth the detour is Brantôme (35 km), also known as the Venice of Périgord!
What amenities are near Piégut-Pluviers?
Piégut-Pluviers is a rural town surrounded by miles and miles of countryside, but that doesn't mean it's isolated! The town is only a short drive from important amenities and transport links.
La Coquille train station (33 km)
Angoulême train station (49 km)
Limoges airport (57 km)
Bergerac airport (108 km)
Bordeaux airport (180 km)
Nearest towns: Montbron, Nontron
Nearest cities: Limoges, Angoulême, Périgueux
Get an expert insider's view of the Piégut-Pluviers agency of Beaux Villages Immobilier. Our experienced independent property consultant, Helen Dawson, offers her personal tips to help you discover a bit more about the types of property available in the area.
What are the typical features of properties in Piégut-Pluviers?
In this area we have a large number of barn renovations which are popular with all nationalities. The French often ask for renovations done by the British, and we have a strong French clientele.
Properties in this area are often made with granite stone and are very pretty and sparkly. They also tend to come with very good sized gardens.
An hour to the east of Piégut-Pluviers, and the properties are of a slightly different style with steep roofs.
What is the average cost of properties in Piégut-Pluviers?
On average properties in this area are worth between 100 000€ and 150 000€.
Give us a best-kept secret about Piégut-Pluviers
This is a very affordable area! We also have the Parc Naturel Périgord Limousin which is a bit of a hidden secret. This area is known for its excellent air quality, which is particularly popular with our younger French clients who are coming to do organic permaculture in the area. There aren't many arable farms in the region so there is less land that has had chemicals on it.
What are the local market trends in Piégut-Pluviers? Are there many properties on the market? Is the local area increasingly popular?
This area has definitely become more and more popular. I've been here since 2016 and I've seen a real increase in this region; its popularity skyrocketed throughout covid and this hasn't changed. The reasons behind this are most likely due to affordability, air quality, and accessibility (Limoges airport is not far and we have excellent autoroutes connections).