Estate Agency in Tournon-d'Agenais
Our estate agency in Tournon d'Agenais has a wide range of properties for sale in the village and the surrounding areas of the Lot-et-Garonne. We have had an agency in this beautiful village since 2017. It's located in the heart of the bastide, just off the central square.
If you are looking to buy a property in the area, the team are ready to help. They can also provide a market appraisal for your property if you are considering selling. Simply give them a call, email, or drop into the agency.
Beaux Villages Immobilier sells properties across the whole of South West France. Click here to see all our agency locations.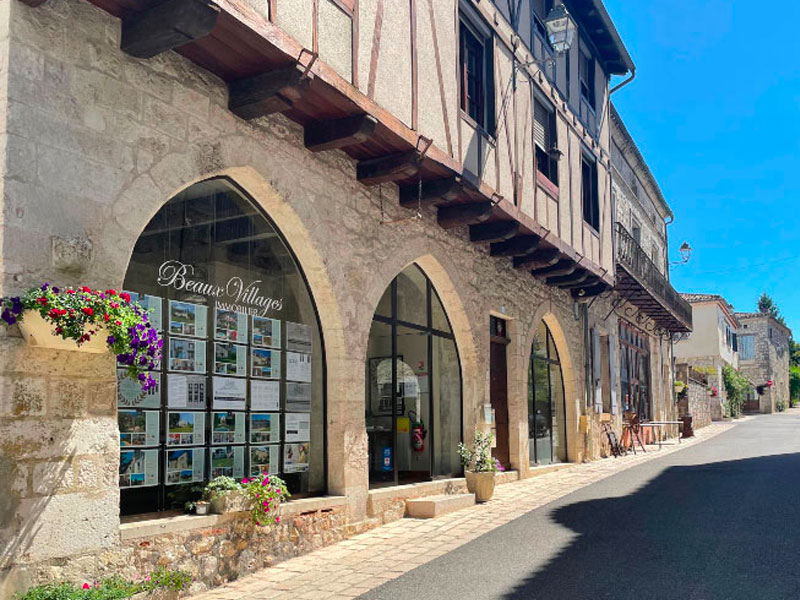 Address
31 Rue Philippe
47370 Tournon d'Agenais
Lot-et-Garonne


Opening Hours
Monday to Friday 9am - 1pm
Phone
+33 (0)5 56 71 36 59
+33 (0)8 05 69 23 23 Free from France
+44 (0)800 270 0101 Free from the UK


Email
---
End of content
No more pages to load
What is there to see in Tournon d'Agenais?
Located in the Lot-et-Garonne, Tournon d'Agenais is a bastide village on top of a hill with stunning views over the surrounding valleys. The village is home to several impressive architectural monuments such as a bell tower with its lunar clock, the town hall which is a mediaeval building dating from the 13th century and the Saint-André de Carabaisse church.
In 2021, the village was accepted to the prestigious Plus Beaux Villages de France association which recognises the prettiest villages in France.
What events take place in Tournon d'Agenais
Tournon d'Agenais is famous for its tourtière - an apple dessert made with an alcohol based sauce and sheets of flaky pastry. Every August, the village hosts its tourtière festival - making it a perfect time to visit and to taste this regional speciality. Another lovely time to visit is in May when the village hosts its annual Foire aux Plantes!
2023 sees the introduction of a Wine Festival!
What is there to see and do in the Lot-et-Garonne?
Lot-et-Garonne is a department which economically relies on fruit and tourism. Sometimes known as the Tuscany of France, the landscape is a colourful combination of sunflowers, vines, orchards and red tiled roofs.
Agriculture is an essential part of the local economy and the area is particularly famous for its Pruneau d'Agen which even has a dedicated museum, hazelnuts from the Vallée du Lot, succulent tomatoes from Marmande and strawberries grown in Val de Garonne.
The reliance on tourism also means there is plenty going on and the area surrounding Tournon d'Agenais offers plenty of local attractions such as the Château de Bonaguil (22 km) and the Château de Gavaudun (24 km). The local villages of Pujols (29 km) and Penne d'Agenais (16 km) are also popular days out. Surrounded by nature, there are plenty of cycling and walking trails available for those who love the great outdoors!
What amenities are near Tournon d'Agenais?
Despite the rural location, the surrounding larger towns and cities offer great shopping facilities, fun days out and excellent transport hubs.
Bergerac Airport (70 km)

Toulouse Airport (112 km)

Bordeaux Airport (175 km)

Agen LGV train station (42 km)

Nearest towns: Agen, Villeneuve-sur-Lot, Bergerac, Montauban

Nearest cities: Toulouse, Périgueux and Bordeaux
Get an expert insider's view of the Tournon d'Agenais agency of Beaux Villages Immobilier. Our experienced (independant) property consultant, Daniel Taylor, offers his personal tips to help you discover a bit more about the types of property available in the area.
What are the typical features of properties in Tournon d'Agenais?
Most properties in Tournon d'Agenais and the surrounding area come with land, mature gardens and some also have outbuildings. They will often be traditional properties made in stone, and another common feature is a swimming pool.
What is the average cost of properties in Tournon d'Agenais?
Properties in Tournon d'Agenais and the rural countryside around this village vary in price. Village stone houses can be found for approximately 80 000€, and then there are also beautiful country estates worth 2 million euros and more.
Give us a best kept secret about Tournon d'Agenais
It's not so much of a secret anymore but Tournon d'Agenais was recognised by the prestigious association Les Plus Beaux Villages de France (the Most Beautiful Villages in France) in 2021. One of its winning qualities is the 360° walk around the ramparts where you can admire stunning views.
What is the local market tendency in Tournon d'Agenais? Are there many properties on the market? Is the local area increasingly popular?
Tournon d'Agenais has always been quite popular and seen a steady demand but enquiries have definitely increased since the village has been labelled as a Plus Beaux Villages de France.