Things we're looking forward to in 2021
Created: Friday, 29 January 2021
Written by Callum Holmes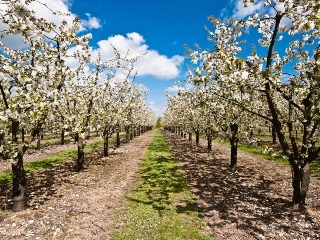 No one was immune to the challenges of 2020 and there are many things we've dearly missed during the Covid restrictions. On the flipside the disruption to normal life has reaffirmed many of the reasons we love living in rural France! Although a return to normality may be some months away, there are plenty of things we're looking forward to in the coming year:
Visits from friends and family
One of the ironic things about moving overseas is that your friends and family want to visit you more often. It's lovely being able to show them what makes your part of France so special, and although playing host can be exhausting at times, we're definitely looking forward to when they can return.


Spring
Soon the days in South West France will be brighter and longer. The garden will burst back into life, and the fields and orchards will be laced with blossom and wild flowers. Also, delicious locally grown produce will start being stocked again in the supermarkets.


Witnessing the Tour de France
A stalwart of the French sporting calendar and a sight not to be missed if you get the chance to see it in person. The route will wind through much of Pyrénées, the Landes and the vineyards of Bordeaux.


Moving on from Brexit
With further clarity around the new regulations we're looking forward to moving on from the uncertainty Brexit has caused for Brits in France. The good news is that it's still going to be relatively straightforward to live, work and travel in France - there will just be a bit more paperwork!


Eating at our favourite local restaurants and marchés gourmands
The French countryside is peppered with charming local eateries. We miss the leisurely lunches and the often very affordable set lunch menus or 'formules'. We're also looking forward to summer evenings spent at our favourite food markets!


Going to vide-greniers and brocantes
There is nothing better than spending the afternoon rummaging around French antiques shops, car boot sales and flea markets. We can't wait to rummage once again to our heart's content!


Attending local French/English conversation groups
Although some groups are still held via zoom, there is nothing better than meeting up in person over coffees or a bottle of wine. We've found these a great way to meet local French and other expats.


Attending live sport events
In rural France sports is a way of life. Almost every village has a sports ground and attending a match is a great way to meet more locals. We're also looking forward to heading into Bordeaux or Toulouse to watch some world class rugby!


Living outdoors
In South West France we're blessed with a fine climate. During the summer (and often the spring and autumn) there is nothing we enjoy more than having meals outside, days spent by the swimming pool, and inviting friends round for aperitifs or a BBQ. It won't be long until we can get back outside again - even if friends have to join us on Zoom!


Seeing all the wildlife
We're still in awe of the wildlife in France. Whilst in the garden during the summer months it's not uncommon to see kestrels and huge buzzards circling overhead and we often spot hares, red squirrels, deer, ragondin (coypu) and sometimes magnificent wild boar. If you're lucky you may even spot brown bears or a wolf down in the Pyrénées.


Next Christmas!
Yes it's a long time away, but we're already looking forward to enjoying Christmas drinks with our neighbours, exploring the Christmas market in Bordeaux and visiting friends and family.