Estate Agency in Bergerac
Our estate agency at Bergerac International Airport has a wide range of properties for sale in the historic town and the surrounding areas of the Dordogne. It opened in 2022 and is conveniently situated between the Departures and Arrivals Halls. It is accessible from outside the terminal building. So, if you are catching a flight, picking up loved ones, or you simply live locally, you can pop in to talk to our friendly team.
If you are looking to buy a property in the area, the team are ready to help. They can also provide a market appraisal for your property if you are considering selling. Simply give them a call, email, or drop into the agency.
Beaux Villages Immobilier sells properties across the whole of South West France. Click here to see all our agency locations.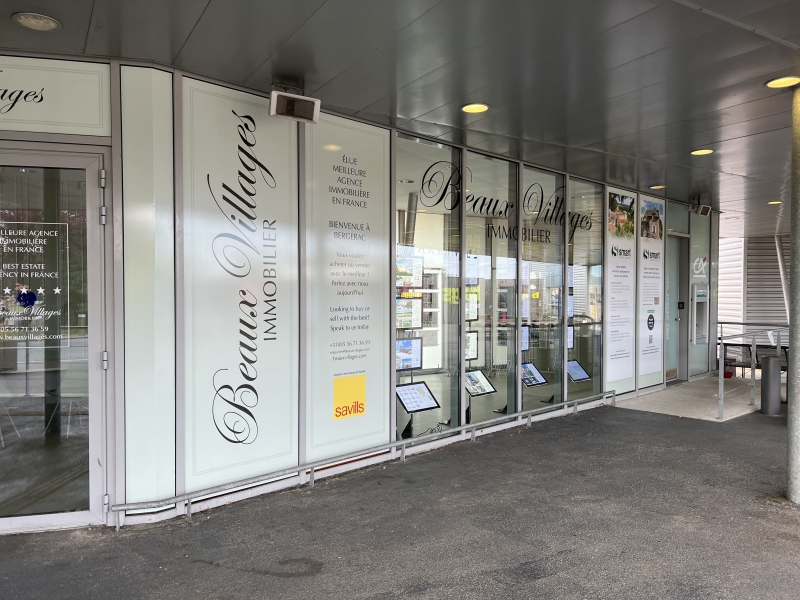 Address
Bergerac Dordogne Périgord Airport
24100 Bergerac
Dordogne


Opening Hours
Monday 10am - 12pm, 2pm - 6pm
Tuesday 10am - 1pm, 2pm - 5pm
Thursday 1pm - 3pm
Friday 9am - 1pm
Saturday 9am - 11am
Phone
+33 (0)5 56 71 36 59
+33 (0)8 05 69 23 23 Free from France
+44 (0)800 270 0101 Free from the UK


Email
---
End of content
No more pages to load
What is there to see and do in Bergerac?
Built on the banks of the river Dordogne, Bergerac is a large and vibrant town with plenty on offer. Wander around the old town and admire the mediaeval half-timbered properties; you could spend hours here exploring the pretty streets, squares and boutiques.
Bergerac is home to two museums: the Museum of Tobacco, which does not promote tobacco but rather retraces the long history of the tobacco plant, and the Musée Costi which is in the Dordonha. The Dordonha is a cultural centre which organises various events such as exhibitions and screenings. Around the town, you will also find several statues of the famous character Cyrano de Bergerac. Look out for his nose which is polished to a shine on some statues by the hands of passing tourists!
Famous for its wine, Bergerac is home to the Maison des Vins (Wine Centre) located in the Récollets Cloisters, where you can learn more about the local wine region and enjoy an exhibition, screening and tasting experience.
What events take place in Bergerac?
Fresh food markets take place in Bergerac every day, except for Sundays and Mondays. The locations of the markets vary from one day to another but all the information can be found here. A flower market and a non-food market are organised every Wednesday and Saturday morning. On a Tuesday afternoon, an organic market is also held in front of the Notre-Dame church. Seasonal markets complete this calendar, a chrysanthemum market is organised on Wednesdays and Saturdays around the 1st November, and a Truffle market takes place every Saturday morning between December and the end of February.
A wide range of cultural events are organised throughout the year including exhibitions, cinema screenings, festivals, concerts and much more. The mairie has an easy to use event calendar.
What is there to see and do in Dordogne?
With its soft rolling hills, woodland, fields of sunflowers, vineyards and sparkling rivers, the Dordogne presents a warm and welcoming environment.
This is a region criss-crossed with footpaths for walking and riding, the rivers are perfect for leisurely canoeing or fishing and there are historical sites at every turn. The principal town of Perigueux (49 km) has a charming mediaeval centre with a wide range of shops and restaurants and twice weekly markets spilling through the winding streets. Don't miss the excellent Vèsunna Gallo-Roman museum.
Riberac (51 km) has, reputedly, the department's biggest market (on a Friday) and Ste Foy La Grande's (24 km) Saturday market is well worth a visit.
From Bergerac along the Dordogne valley through Lalinde (22 km), to Sarlat (74 km) there is an almost endless parade of breathtaking towns and villages.
Foodies will find plenty to please them including the locally produced ducks and foie gras, walnuts and prunes and wines from the world-famous Bergerac vines.
There are several villages and towns near Bergerac which are well worth a visit, such as Eymet (24 km) and Issigeac (19 km) which both have lively weekly markets. Ranked among the Plus Beaux Villages de France (Most Beautiful Villages in France) are Villeréal (35 km) and Monpazier (43 km), both of which are not far from Bergerac and a must see. For lovers of Monbazillac (8 km), the village and its château can be visited, and you can also taste and purchase the world famous wine.
For those who love to delve into the history of Châteaux, you will not be disappointed with the Château de Biron (47 km) or the Château de Bridoire (12 km), a favourite among children.
What amenities are near Bergerac?
Bergerac is a town with plenty of amenities and excellent shopping facilities. The train station and international airport provide brilliant transportation links, making Bergerac and its surrounding areas easily accessible.
Bergerac train station
Bergerac airport
Bordeaux airport (107 km)
Nearest cities: Bordeaux, Périgueux
Get an expert insider's view of the Bergerac agency of Beaux Villages Immobilier.Our experienced independent property consultants, Jane Fraser-Bryan and Antony Bryan, offer their personal tips to help you discover a bit more about the types of property available in the area.
What are the typical features of properties in Bergerac?
Typical houses in the centre of Bergerac are built in pale coloured limestone. Many properties in the centre have a wattle and daub structure, with straw and clay mixed together to make panels which are slotted in between an oak A-frame. Another common feature are terracotta pan tiled roofs.
What is the average cost of properties in Bergerac?
Most of the properties we sell are more in the surrounding areas of Bergerac and an average cost would be around 300 000€ to 350 000€.
Give us a best-kept secret about Bergerac
A restaurant that we love is the Tables du Marché.
What are the local market trends in Bergerac? Are there many properties on the market? Is the local area increasingly popular?
There are two markets in Bergerac: the domestic market which is made up of mainly young professionals and located in the centre of Bergerac; and then there is the countryside market which is outside of Bergerac and focuses more on towns like Monbazillac.