Estate Agency in Eymet
Our estate agency in Eymet has a wide range of properties for sale in the town and the surrounding areas of the Dordogne and Lot-et-Garonne. Beaux Villages Immobilier opened in Eymet in 2018 after buying a friendly competitor and all original members of the team, including the owners, stayed on with us. The agency is located in the heart of this beautiful town, just off the main square.
If you are looking to buy a property in the area, the team are ready to help. They can also provide a market appraisal for your property if you are considering selling. Simply give them a call, email, or drop into the agency.
Beaux Villages Immobilier sells properties across the whole of South West France. Click here to see all our agency locations.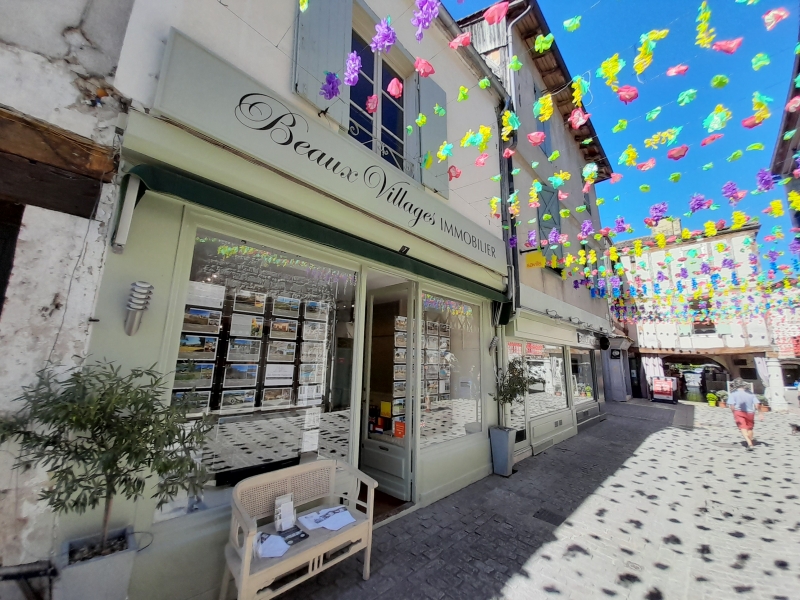 Address
7 Rue du Temple
24500 Eymet
Dordogne


Opening Hours
Monday to Friday 9am - 12.30pm, 2pm - 5.30pm
Phone
+33 (0)5 56 71 36 59
+33 (0)8 05 69 23 23 Free from France
+44 (0)800 270 0101 Free from the UK


Email
---
End of content
No more pages to load
What is there to see and do in Eymet?
Eymet is a bastide town dating from the 13th century. The main square, Place Gambetta, is adorned with beautiful arches over the shop fronts and charming mediaeval buildings. Eymet is a thriving town where you can spend a day exploring the streets taking in the architecture and the atmosphere. Unusually for a bastide, Eymet has a castle which dates from the 13th century and its ruins can be visited. There are also plenty of restaurants, shops and antique stores to enjoy.
What events take place in Eymet?
Eymet's weekly market is held on a Thursday morning and it is a lively event where you can stock up on fresh and local produce. During the summer months of July and August, an evening market is also organised on Tuesdays; these are really lovely and fun for all of the family.
An annual spring flower and bee festival is held at the end of April during which several activities are planned such as a tombola and horse-drawn carriage rides.
Throughout the year various brocantes, markets, concerts and plays are organised in the town, providing lots of entertainment and things to do.
What is there to see and do in Dordogne?
The Dordogne has long been a popular destination. Its soft rolling hills, woodland, fields of sunflowers, vineyards and sparkling rivers offer a warm and welcoming environment.
This is a region criss-crossed with footpaths for walking and riding, the rivers are perfect for leisurely canoeing or fishing and there are historical sites at every turn. The principal town of Perigueux (73 km) has a charming mediaeval centre with a wide range of shops and restaurants and twice weekly markets spilling through the winding streets. Don't miss the excellent Vèsunna Gallo-Roman museum.
From Bergerac (25 km) along the Dordogne valley through Lalinde (41 km), to Sarlat (90 km) there is an almost endless parade of breathtaking towns and villages.
Foodies will find plenty to please them including the locally produced ducks and foie gras, walnuts and prunes and wines from the world-famous Bergerac vines.
Eymet is surrounded by beautiful villages, towns and historical monuments which are well worth a visit. On our must-see list are the bastides of Castillonès (19 km) and Villeréal (32 km). Issigeac (22 km) with its winding mediaeval streets and bustling weekly market is also a lovely day out. Monpazier (46 km), which is recognised by the prestigious Les Plus Beaux Villages de France (the Most Beautiful Villages of France) association, is only a short distance away, as are Pujols (47 km) and Monflanquin (41 km).
For those who love to delve into the history of Châteaux, you will not be disappointed with the Chêateu de Biron (43 km) or the Château de Bridoire (15 km) which is a favourite among children.
What amenities are near Eymet?
Eymet is located in the southern part of the Dordogne and benefits from an excellent location. Surrounded by beautiful countryside, Eymet is only a short distance from Bergerac and Bordeaux, both of which offer excellent amenities and international transport links.
Bergerac Train station (25 km)
Bergerac airport (24 km)
Bordeaux airport (122 km)
Nearest towns: Bergerac, Sainte-Foy-La-Grande, Villeneuve-sur-Lot
Nearest cities: Bordeaux, Périgueux
Get an expert insider's view of the Eymet agency of Beaux Villages Immobilier. Our experienced local experts, Jane Fraser-Bryan and Antony Bryan, offer their personal tips to help you discover a bit more about the types of property available in the area.
What are the typical features of properties in Eymet?
Typical houses in Eymet are built in pale coloured limestone. Many properties in the centre of Eymet have a wattle and daub structure, with straw and clay mixed together to make panels which are slotted in between an oak A-frame. Another common feature are terracotta pan-tiled roofs.
Around Eymet, there is beautiful countryside with rolling hills, vines, woodland, orchards and lots of sunflowers!
What is the average cost of properties in Eymet?
The average price in Eymet is approximately 350 000€.
Give us a best-kept secret about Eymet
The white wine and oyster festival on 15th August.
What are the local market trends in Eymet? Are there many properties on the market? Is the local area increasingly popular?
It's always been a popular area, and not just with the English. It is increasing in popularity with the domestic market, so the French population who are moving inter-regionally.
The profile of the local expat community is also changing and we have noticed that the age of our buyers has gone down a lot in recent times. We're seeing a lot more young families moving to the area, particularly due to the rise in home working and because of Bergerac airport being so close which means the UK is easily accessible for those who go back to work in the UK.