Estate Agency in Monflanquin
Our estate agency in Monflanquin has a wide range of properties for sale in the village and the surrounding areas of the Lot-et-Garonne.
We opened up our agency in Monflanquin in 2019 when a long-established and respected local agent was retiring and Beaux Villages took over his business. The ageny is located in the heart of this lovely village on the main square.
If you are looking to buy a property in the area, the team are ready to help. They can also provide a market appraisal for your property if you are considering selling. Simply give them a call, email, or drop into the agency.
Beaux Villages Immobilier sells properties across the whole of South West France. Click here to see all our agency locations.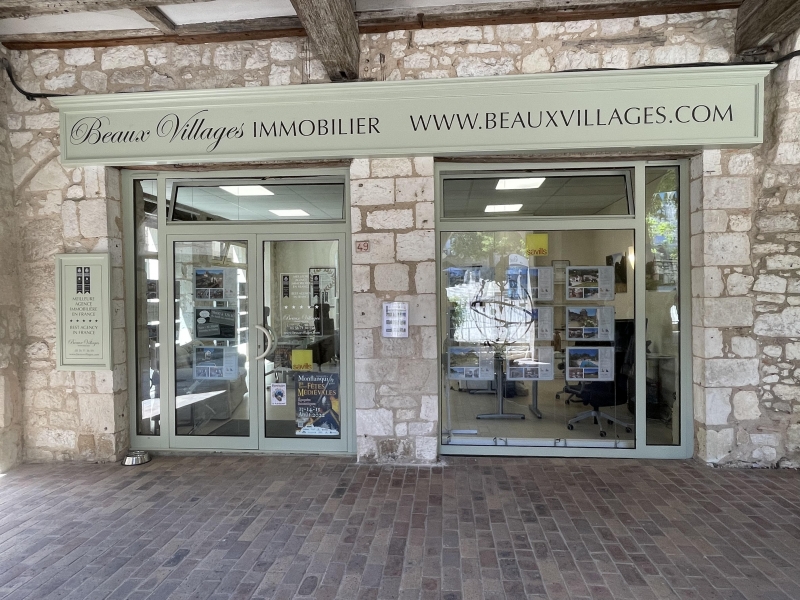 Address
49 Place des Arcades
47150 Monflanquin
Lot-et-Garonne


Opening Hours
Monday to Friday 9am - 12.30pm
Phone
+33 (0)5 56 71 36 59
+33 (0)8 05 69 23 23 Free from France
+44 (0)800 270 0101 Free from the UK


Email
---
End of content
No more pages to load
What is there to see and do in Monflanquin?
Monflanquin is a bastide village dating from the 13th century. It has been welcomed into the prestigious Plus Beaux Villages de France association which recognises the Most Beautiful Villages in France and it is easy to understand why! All streets tend to lead to the main square, Place des Arcades, which is adorned with beautiful arches over the shop fronts and several architecturally impressive buildings. Be sure to look out for the House of the Black Prince on the square, which is rumoured to be where he lived for a while! You can spend the best part of a day wandering around the little alleyways admiring the mediaeval buildings and taking in the stunning views of the surrounding countryside. As you discover this pretty village, the Church Saint-André should be on your list to visit, along with Monflanquin's museum dedicated to bastides, where you can learn more about bastide villages and the art gallery Pollen which hosts various exhibitions.
What events take place in Monflanquin?
Monflanquin has a busy cultural agenda, with lots going on in the summer months especially.
A local market takes place in Monflanquin every Thursday morning, and has done since 1256! In July and August, an evening market is also organised every Thursday evening where visitors can taste delicious local produce.
The summer season kicks off in April with Monflanquin's annual spring festival on the second Sunday of April and then a horse racing event at the end of April.
On 14th July, an annual brocante is organised in the village.
A main event in Monflanquin which occurs annually on or around 15th August is the Médiévales de Monflanquin festival, a mediaeval festival, which delights all visitors regardless of their age. It's the perfect opportunity to travel back to the Middle Ages and enjoy some mediaeval entertainment, a market and a banquet!
Plenty of concerts and shows are organised throughout the whole summer with the fête de la musique in June and various festivals which take place during the summer months and offer amusement for all ages.
What is there to see and do in the Lot-et-Garonne?
Lot-et-Garonne's local economy primarily relies on agriculture and tourism. Sometimes known as the Tuscany of France, the landscape is a colourful combination of sunflowers, vines and red tiled roofs. The area is famous for several regional specialties such as, the Pruneau d'Agen (which even has a dedicated museum), hazelnuts from the Vallée du Lot, succulent tomatoes from Marmande and strawberries grown in Val de Garonne.
The department's reliance on tourism also means there are lots of activities and days out to keep you busy! A trip to the village of Pujols (25 km) should most definitely be on your list of places to visit in the surrounding area, along with Villeréal (13 km) and Tournon d'Agenais (28 km). All three villages are recognised by the Plus Beaux Villages de France association so they will not disappoint. You can also visit the Château de Gavaudun (12 km) and admire the splendid views of the Gavaudun Valley whilst you are there. Another Château which is a must-see is the Château de Biron (17 km), a historic monument with a rich history and truly magnificent views!
What amenities are near Monflanquin?
Monflanquin is perched above the countryside in an excellent location. Its proximity to Bergerac, which not only offers good shopping facilities but also an international airport, makes this small village and its surroundings particularly appealing.
Agen LGV train station (47 km)
Toulouse airport (141 km)
Bergerac airport (43 km)
Bordeaux airport (155 km)
Nearest towns: Villeneuve-sur-Lot, Agen, Bergerac, Montauban
Nearest cities: Toulouse, Bordeaux, Périgueux
Get an expert insider's view of the Monflanquin agency of Beaux Villages Immobilier. Our experienced property consultant, Eric Garnier, offers his personal tips to help you discover a bit more about the types of property available in the area.
What are the typical features of properties in Monflanquin?
Monflanquin is a bastide village on top of a hill, the properties found here are typical of the region - terraced houses built in stone, often with no outdoor space or just a small garden or terrace. It's an authentic village which is a melting pot of local French people and expats, the region attracts many expats and there is quite the mix of primary and secondary residences in the area. Properties located outside the village often have more space. The village is very cosmopolitan.
What is the average cost of properties in Monflanquin?
It is impossible to give a price for the square metre as there is such a large variety of properties in this region. However, you can find a renovated property between 200 000€ and 500 000€, with an average that is maybe between 300 000€ and 400 000€.
In the area surrounding Monflanquin, the prices start at a similar level but they can reach 1 to 2 million euros. In general, most properties are priced around 400 000€ for a house with a pool in a nice setting.
Give us a best-kept secret about Monflanquin
The Mediaeval festival which takes place around 15th August lasts for several days where all things mediaeval are celebrated. The Monflanquin mediaeval festival is one of the best in the region.
The night markets on Thursday evenings throughout the summer are also very nice.
What are the local market trends in Monflanquin? Are there many properties on the market? Is the local area increasingly popular?
The region is very popular, so if you see something you like then act quickly!