Estate Agency in Ruffec
Our estate agency in Ruffec has a wide range of properties for sale in the town and the surrounding areas of the Charente. In 2022, Beaux Villages Immobilier joined forces with a multilingual and multinational friendly competitor and we have since moved into new purpose built premises in Ruffec to accommodate our growing team.
If you are looking to buy a property in the area, the team are ready to help. They can also provide a market appraisal for your property if you are considering selling. Simply give them a call, email, or drop into the agency.
Beaux Villages Immobilier sells properties across the whole of South West France. Click here to see all our agency locations.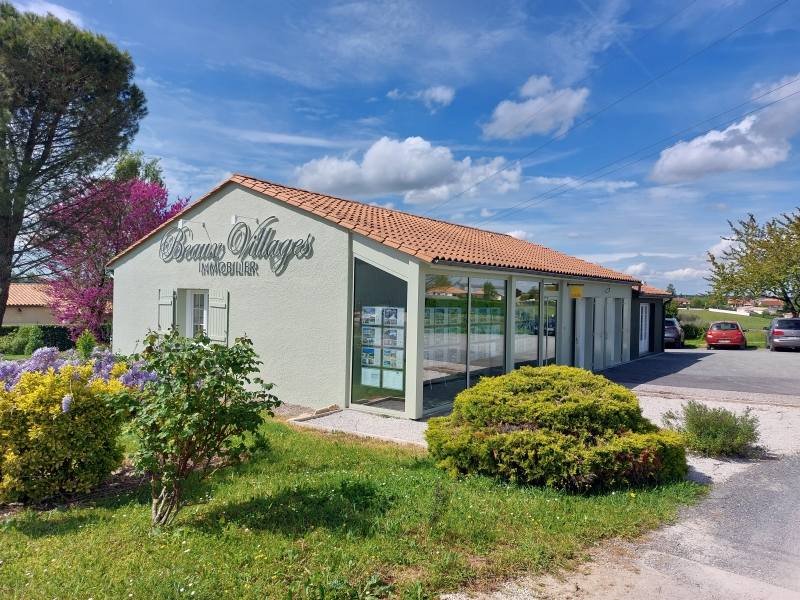 Address
36 Chem. des Meuniers
16700 Ruffec
Charente


Opening Hours
Monday to Friday 9am - 12pm, 2pm-6pm
Phone
+33 (0)5 56 71 36 59
+33 (0)8 05 69 23 23 Free from France
+44 (0)800 270 0101 Free from the UK


Email
---
End of content
No more pages to load
What is there to see and do in Ruffec?
Ruffec is a small but well developed town offering all of the day to day amenities that you need. On the Place d'Armes, you will find the town hall dating from the 1830s and around this square is the historical centre of Ruffec and the church Saint-André with its decorative facade. The Lien river flows through the town and along it you will find the old lavoir (communal wash area) which was built in the 19th century. The river also presents the possibility to paddle or to go canoeing and kayaking during the warmer months.
What events take place in Ruffec?
A market takes place every Wednesday and Saturday in Ruffec, the perfect opportunity to find local and fresh produce. A special producers market also takes place each August.
A range of concerts, carboot sales and fairs such as the Saint Barnabé fair in May are also organised each year in Ruffec, as well as a festive Christmas market.
Each January, the International Festival of Humour and Dream comes to Ruffec and offers a wide range of entertainment such as cabaret shows and humorous plays.
What is there to see and do in Charente?
Famed worldwide for its Cognac production, the Charente is second only to Provence for the number of sunshine hours per year. The vines flourish under these conditions and stretch for miles in orderly ranks giving a distinctive look to much of the countryside.
The Charente river flows through the department and the city of Angoulème (45 km), which hosts an amazing weekend of classic car racing around the old city ramparts each September, where Bugattis battle it out with Rileys and MGs. The city also holds a world famous International Comic Book Festival each January, which attracts approximately 200 000 visitors!
A few must-see places in the department include Aubeterre-sur-Dronne (99 km) which is listed as one the Plus Beaux Villages de France (one of the Most Beautiful Villages in France), Cognac (65 km) itself and La Rochefoucauld (44 km) with its magnificent chateau. Only a short distance from Ruffec is the village Verteuil-sur-Charente (6 km) which is a Petite Cité de Caractère, a label awarded to certain villages and which aims at preserving remarkable heritage.
What amenities are near Ruffec?
Ruffec is a town with many amenities such as supermarkets and banks. There is also a train station which is of course very useful. Ruffec benefits from a great location being near the cities of Angoulême, Limoges and Poitiers.
Ruffec train station
Angoulême train station (45 km)
Poitiers airport (67 km)
Limoges airport (91 km)
Nearest cities: Angoulême, Poitiers, Limoges
Get an expert insider's view of the Ruffec agency of Beaux Villages Immobilier.Our experienced property consultant, James Rolt, offers his personal tips to help you discover a bit more about the types of property available in the area.
What are the typical features of properties in Ruffec?
The properties in and around Ruffec are mainly built from golden stone. There are lots of longères - which are lowish stone buildings, often with outbuildings because they were originally farms. Properties in this area generally come with a decent amount of land, and a swimming pool maybe. There is the odd maison de maître around here but it is not as common.
What is the average cost of properties in Ruffec?
The average cost of a renovation project in this area is about 50 000€.
For a ready to move into stone property, the average cost is around 300 000€; for something with gites and extras, it will be around 300 000€ plus.
Give us a best-kept secret about Ruffec
Aire de Rejallant - a beautiful riverside spot just 5 minutes outside Ruffec in Condac. There is a swimming area and platform, canoeing, paddleboarding, sports areas and a restaurant.
There are also lots of amenities in Ruffec such as a hospital, a newly refurbished swimming pool, and lots of sporting activities.
What are the local market trends in Ruffec? Are there many properties on the market? Is the local area increasingly popular?
The area has definitely grown in popularity over the last 3 years because you get more for your money generally. You are likely to find more of the package that you want in this area in comparison to others.
The area is also increasingly popular with the French, much more so than before with people moving here from different regions.