Estate Agency in Verteillac
Our estate agency in Verteillac has a wide range of properties for sale in the village and the surrounding areas of the Dordogne.
We opended our agency in Verteillac in 2009 after buying a friendly local competitor. Located on the village square, this has become one of our main agencies.
If you are looking to buy a property in the area, the team are ready to help. They can also provide a market appraisal for your property if you are considering selling. Simply give them a call, email, or drop into the agency.
Beaux Villages Immobilier sells properties across the whole of South West France. Click here to see all our agency locations.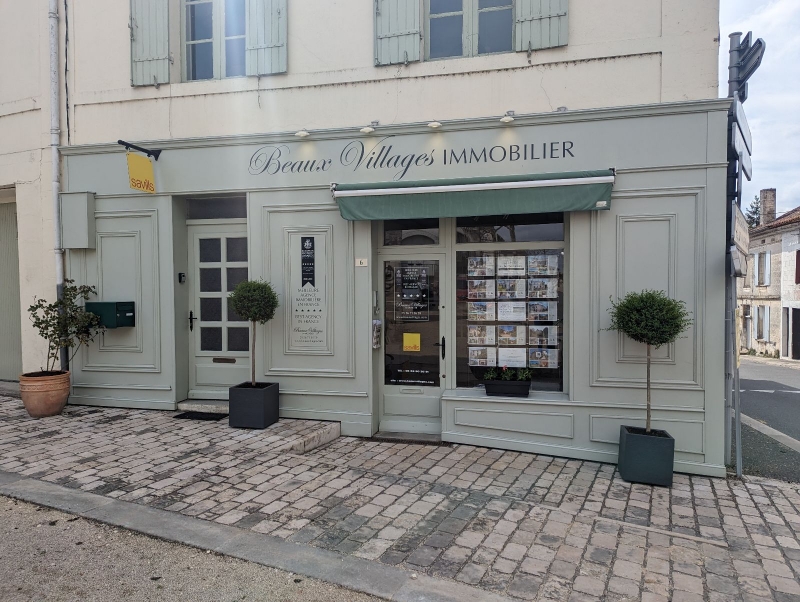 Address
Place de la Mairie
24320 Verteillac
Dordogne


Opening Hours
Monday to Friday 9am - 1pm
Phone
+33 (0)5 56 71 36 59
+33 (0)8 05 69 23 23 Free from France
+44 (0)800 270 0101 Free from the UK


Email
---
End of content
No more pages to load
What is there to see and do in Verteillac?
Verteillac is a traditional rural village in the southwest of France. It has a main square which hosts a range of amenities such as a bakery, cafés and restaurants. The centre of the village is dominated by the mairie with its stone arched windows and the towering church which is worth a visit. During the summer months, an outdoor public swimming pool is open and a great day out for children or adults alike. Verteillac is in a prime location in the Dordogne countryside and there are plenty of hiking trails as well as accompanied discovery walks organised throughout the summer.
What events take place in Verteillac?
On the first Sunday of every month, a large brocante is held in Verteillac - the perfect opportunity to snap up a bargain!
A weekly market is held on Saturday mornings, where regional goods can be bought, and during the summer months, a night market is held every Thursday evening. The night markets are truly festive events where you can enjoy fresh produce prepared by local producers!
What is there to see and do in Dordogne?
Dordogne is renowned for being a particularly popular department in France. The landscapes are stunning and its popularity means there is lots going on! There are plenty of popular days out locally ranging from stunning châteaux to visit to discovering quaint towns and villages nestled in the greenery.
The château de Mareuil (15 km) is a popular local activity and guided visits are available. Another popular attraction is the château de Villebois-Lavalette (21 km), various events are organised all year round at this château which tend to be popular with children so be sure to check out their calendar!
Whilst there are many châteaux and other attractions to discover in the Dordogne, there is also an abundance of beautiful villages which are most definitely worth a visit. Located near Verteillac is Ribérac (13 km) with its renowned market every Friday morning, Aubeterre-sur-Dronne (20 km) which is recognised as one of the Plus Beaux Villages de France (Most Beautiful Villages in France) and home to an impressive monolithic church is only a short drive away and Brantôme (30 km) which is a very beautiful village often referred to as the Venice of Périgord is also easily reached from Verteillac!
What amenities are near Verteillac?
Verteillac is not only well equipped in terms of amenities present in the village, but it is also only a short distance from excellent transportation hubs and shopping locations.
Bergerac Airport (67 km)
Bordeaux Airport (133 km)
Angoulême train station (46 km)
Nearest towns: Ribérac, Bergerac
Nearest cities: Angoulême, Périgueux and Bordeaux
Get an expert insider's view of the Verteillac agency of Beaux Villages Immobilier. Our experienced independent property consultant, Anna Stewart, offers her personal tips to help you discover a bit more about the types of property available in the area.
What are the typical features of properties in Verteillac?
Beautiful white stone is what we are known for, the stone in Verteillac is a very pure white which is different to other areas; further north the stone is more granite like, whereas further south it is more yellow. The countryside properties around Verteillac are often made from a more rounded stone than the village properties, which tend to have been built with a more sharp cut stone. There are little collections of hamlets surrounding Verteillac which are often composed of a main building and then outbuildings and barn conversions.
What is the average cost of properties in Verteillac?
Our lowest properties are worth around 120 000€, and I would say the average cost of a property in or around Verteillac is about 200 000€. Although, we do have properties worth over 1 million euros!
Give us a best-kept secret about Verteillac
Verteillac is a village that is alive all year round! It is very active with a thriving community of all age groups. We have shops, a school, and a wonderful brocante on the first Sunday of each month which attracts people from all over. There really is a magic about Verteillac, maybe it is the white stone that reflects the light, the lively square or the active village life, but it really does have a certain je ne sais quoi.
What are the local market trends in Verteillac? Are there many properties on the market? Is the local area increasingly popular?
Verteillac has always been very popular and it remains so because of its location between three airports (Bergerac, Bordeaux, and Limoges) and it is only 35 minutes from Angouleme TGV train station which can get you to Paris in 2 hours. It's also located near lovely attractions such as Brantôme and the lakes at La Jemaye and Saint-Estèphe. There is plenty going on throughout the year also which keeps it popular, you know that if you have a permanent home in Verteillac it won't be too quiet in the winter but as it doesn't get overcrowded in the summer, there is a nice balance.