Sharing France with you
Every week you'll find new stories, local and national events, comments, recipes and advice on this page. Click on the Archive button to see previous posts full of interesting information and links.
Dangerous processionary caterpillars on the move
Katherine O`Neill //

Monday, 08 April 2019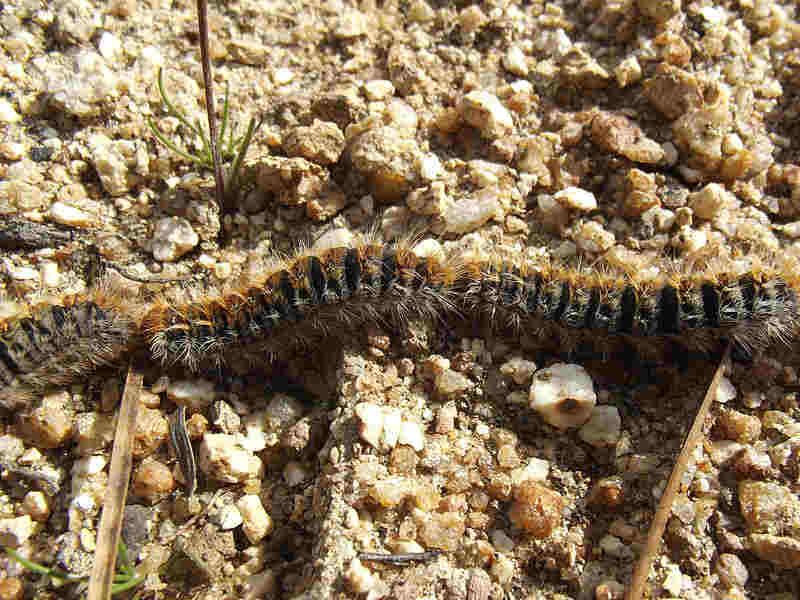 The recent warm weather has drawn out the pine processionary caterpillars. They've already been spotted in many parts of southern France, so please be vigilant and take precautions.
They're found in nests in pine trees that look like large webbed material clumped into a cotton wool-like 'tents'. Once the weather warms up, they start making they way down the tree trunks and on to land for sunnier spots.
Read more ...
New restaurant in Montaigu de Quercy
Marion Beschet //

Friday, 05 April 2019
Cloé Martin and Matthew Prendergast and their team: Guillaume in the kitchen and Muriel in the dining room, have just opened their restaurant in Montaigu de Quercy (82).
Their menu offers a choice of fine and tasty French dishes as well as a selection of homemade Italian pizzas. All this with fresh ingredients, which come from the market of the day such as the famous "Saturday morning brunch" but also in pizzas and other dishes.
In a warm setting and with a superb terrace and shaded garden for the summer, it will certainly be a good new address to share with your family and friends.
Open for lunch and dinner except on Tuesdays.
We already love it. We have our loyalty card!
We need a hook!
Marion Beschet //

Friday, 05 April 2019
Marketeers often talk about a hook to mean an item of advertising used to draw attention to the product they hope to sell.
Well known brands will simply use product placement because their name is sufficient on its own as a hook. Savills, for example, is so well known that the eye is usually drawn to the name before the product.
In estate agency some cynical, usually smaller, companies use aspirational properties to 'hook' interest.
The property seems too good to be true - and it is.
If it is a new development of several or many similar or different units, the truth may be that the enquirer finds out it is unavailable and the sales team attempt to 'switch-sell' to something more expensive or of arguably lower spec.
In resales estate agency some properties just look amazing because they are. Realistically priced beautiful homes sell well in any market.
They do not stay around for long to hook interest.
Rogue agents will leave them online and hope to deal with the disappointment of the enquirer and offer something else instead.
As a consumer this is grossly irritating and many of us punish the agency and take our business elsewhere.
It should be said that there are various reasons in a multi-listing market - where several agencies have the same property - where this may happen innocently. But if it happens more than occasionally, you are either in the middle of a very fast market, or you have stumbled on dishonesty.
Read more ...
Toques et Clochers Saturday 13th of April
Marion Beschet //

Saturday, 30 March 2019
If you are looking for a wine tasting experience 'extrordinare' La Digne d'Amont, near Limoux, will be the proud hosts of this years 'Toques et Clochers' celebrations.
Now in its 30th year this fête gastronomique celebrates and promotes the produce of the Limoux appellation, with food, wine and music, culminating in a gala dinner and one of the most important auctions of French wines. It attracts winemakers, wine professionals, restaurateurs and their clients from around the world, who gather together for the weekend festivities. Funds raised are used to help restore and maintain the 42 ancient bell towers in the 4 terroirs around Limoux and St Hilaire, the birth place of Blanquette de Limoux and other AOC Limoux wines. .
The main public event, 'La fête', is open to all and takes place throughout the village on Saturday 13 April. Navettes are organised throughout the day from Limoux to La Digne d'Amont.
Buy the glass and enjoy the ambiance of this popular event that brings together nearly 30,000 people each year.
*Toques - Chefs hats
**Clochers - Bell towers
Photo: www.sieurdarques.com
French website about Brexit
Julie Savill //

Friday, 29 March 2019
While the United Kingdom is delaying a decision on Brexit, the French government has created a website that answers many questions.
It includes each situation of each French (living in the United Kingdom) or British citizen.
The site is updated regularly. However the site is all in French, you can use deepl.com for translation.
You can find this site here.
Read more ...
Team Eymet's Télématin appearance
Katherine O`Neill //

Wednesday, 20 March 2019
This morning's broadcast on Télématin, well done to our Eymet team!
The French TV was looking for contributors to cover views on Brexit from France. Eymet was an ideal location with market day happening whilst Télématin was shooting (last Thursday).
Our team welcomed the TV crew with open arms and used their professional local knowledge to answer their questions.
Your turn...
Let your inner author loose! If you have an experience to share about moving to, living in or simply visiting France then we'd like to hear about it. Write a maximum of 300 words, attach a photo and we'll publish the best here.
This email address is being protected from spambots. You need JavaScript enabled to view it.